Eudora seeks county funding for paramedics, ambulance; sheriff requests funds for corrections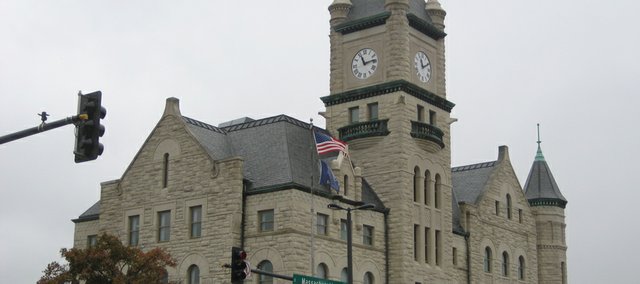 The City of Eudora is concerned about emergency response time to the area and the limitations of its first responders, the city manager said Tuesday.
At a county budget meeting Tuesday morning, Eudora City Manager Gary Ortiz asked Douglas County commissioners to set aside $827,780 from the 2016 budget for Lawrence-Douglas County Fire Medical. The allotment would allow the purchase of an ambulance and hiring and equipping seven full-time employees, all of which would be housed in Eudora's Public Safety Facility at 930 Main St.
According to a long-standing agreement between Lawrence and Douglas County, the fire department is responsible for providing fire coverage within Lawrence and paramedic services throughout the entire county, said County Administrator Craig Weinaug.
Additional and better-trained emergency responders specifically located in Eudora would both decrease response times within the area and increase the efficacy of response teams, Ortiz said.
Currently, Eudora houses one full-time employee, one part-time employee and around 20 volunteers with varying levels of availability, Ortiz said. With existing equipment and training levels, those employees are limited in the care they can provide. Specifically, they cannot provide 'advanced life support,' he said.
"They can't start an IV or start cardiac care," he said. "Lawrence still provides that service to us, but right now it takes them an average of more than 12 minutes to get here, find the scene and deliver the service."
With a new crop of trained paramedics, average response time in the area would be reduced to under four minutes, Ortiz said.
This is the second year Eudora has made this request to the county, Ortiz said.
Understanding the large financial commitment the request represents, Ortiz also presented commissioners with alternative options costing $594,585 in 2016 and $355,007 each following year.
The secondary option would allow the county to hire three-full time employees and buy a quick response vehicle instead of an ambulance, Ortiz said. Those employees would have limited training and capabilities and would not be able to transport patients in the quick response vehicle.
Even if commissioners choose to fund the secondary and less-expensive option, the growing and aging population in Eudora will likely force the county to expand in the future, Ortiz said.
If commissioners deny the request for funding, Ortiz said the need for increased service will still exist, but the city will be forced to maintain its "status quo."
Commissioner Nancy Thellman said she is aware of the growing need in southeast Douglas County and she supports the request.
"I know that the issue is not if, but when," she said. "It's definitely one that we're paying attention to."
While the need within the county is clear, Thellman said the request represents a substantial financial commitment and that the commissioners have not yet come to any firm decisions on the matter.
"There are a lot of big requests and a lot of things to balance, so it's a tough one," she said.
Because the county's proposed 2016 budget has not yet been finished, Weinaug said it is difficult to estimate the request's possible impact on property taxes. However, if approved, the request could potentially increase property tax rates by more than half a mill.
Through the rest of the morning other area organizations lobbied commissioners for funding.
Douglas County Sheriff Ken McGovern spoke to commissioners about a request for supplemental funding to hire six new corrections officers and one re-entry case manager. The total annual cost of all seven hires would be $398,617.
Among other things, McGovern said newly hired corrections officers would be assigned to training duties and provide help in the county jail's booking area.
With recent discussions in the county about a potential jail expansion and mental health facility projects, Weinaug said the additional hires are a growing necessity.
"This is something that is not a question of whether we need to add these officers; it's a question of when," he said.
Commissioners will meet Wednesday morning to further discuss the budget. A preliminary agreement may be reached as early as that morning, Weinaug said.
A final hearing for the budget will be held in August.