Baldwin City Barracuda swim team successfully 'tests the waters'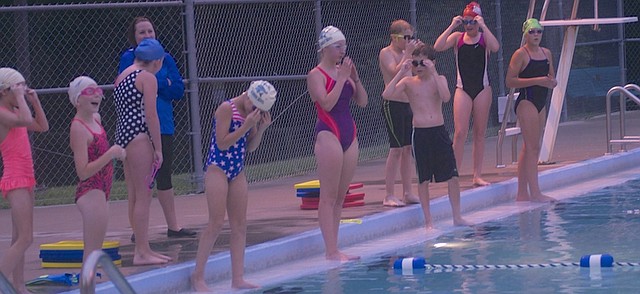 In preparation for their final meet of the season Wednesday in Ottawa, the Baldwin City Barracudas had their last practice of the year Tuesday on a unseasonably cool day.
"It's a good thing the pool is heated, or there would be some whining," said Beth Morford, one of the three coaches of the team.
It's possible the young swimmers would have dived in the pool regardless of the temperature, Morford said, because the 20 Barracuda members have proven a joy to coach.
"They always get in the water for practice without us telling them to," she said. "They are very competitive. They are so competitive, they say 'put me in five events, I don't care.' We've had great team morale."
There was as swim team at the pool for the past three years with a hired coach. But this year saw a lot of changes. Taking charge as coaches were Beth and Casey Morford, who competed as a youth with the Lawrence Hawks and at the D-1 level at the University of Evansville, and Josh Ediger, who also swam competitively in college.
The team changed leagues and now competes in a recreational league with Ottawa, Wamego and Brierwood and Wood Valley teams from Topeka.


The Barracudas will not participate in the league's wrap-up league championships. Morford said that was by design. This year was about "testing the water," and competing in the league meet required coaches be certified with the USA Swimming, she said.
This year has been enough of a success, the Barracudas would get the needed certification for next year. Her husband is already working on his certification, Morford said.
One of the successes of the season was the Barracudas hosting a meet July 1 with Ottawa and one of the Topeka teams. It was a community effort that involved parents and volunteers.
"It went flawlessly," Morford said.
The team has youngsters of 7 to 8 years of age to those 14 years old, Morford said. There are many sibling combinations as brothers and sisters saw how much fun their siblings were having and joined the team.
One of those would be 14-year-old Rachael Fritzche, who said she decided she would like to be part of the team her younger siblings had already joined. She's shaved 5 to 7 seconds off her times for all her strokes, an improvement she attributes to coaching.
"They don't just stand and watch, the coaches tell us how to do it right," she said.
She'll probably compete with the team again next summer, she said.
One of the nice things about the league is that the more established Topeka teams had older members, Morford said. That gave the Baldwin City swimmers a chance to see 17 and 18 year old compete and an example to follow, she said.