Key Baldwin City Hall staffer taking job as city administrator of Fairbury, Neb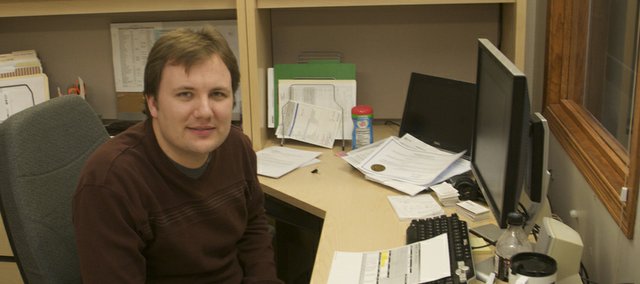 Collin Bielser is leaving Baldwin City Hall after two and a half years to take the position as city administrator of Fairbury, Neb.
Baldwin City Administrator Chris Lowe announced that Monday's City Council meeting would be Bielser's last, adding his assistant had done a great job and would be missed.
Bielser was hired as Baldwin City Clerk in February 2013. He came to Baldwin City from Eudora, where he worked as a planner and in economic development.
From the start, his Baldwin City job included duties in the community development area. After a reshuffling of city staff duties last year, Bielser shed his city clerk duties and became the city's community development director in charge of such things as planning and zoning.
While here, Bielser managed several grant applications, including the one that provided 50 percent of the new sidewalk from West Park to Women's Walking Bridge Park by way of the Baldwin City Municipal Golf Course.
Bielser said he would start his duties in Fairbury on July 27. Fairbury is a city of about 4,000 people south of Lincoln near the Kansas border. Like Baldwin City, it has four public utilities, including its own electrical generation and distribution department, he said. It is county seat of Jefferson County, Neb., and has an independent grocery and hardware store, he said.
Bielser is the second administrative staff member to leave City Hall in recent weeks. City Clerk Anna Keena resigned last month.