One Baldwin school board seat to be contested this spring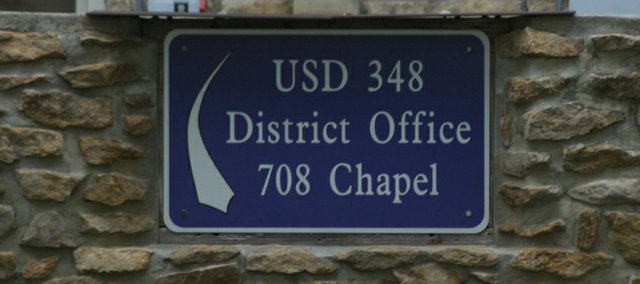 With the terms of four Baldwin school board members set to expire at the send of their terms on July 1, there was the chance before Tuesday's filing deadline that the board might soon look very different.
Short of successful write-in campaigns, that won't happen. Two incumbent board members who chose to stand for re-election, Nick Harris in District 1, Position 1 and Sandy Chapman in District 2, Position 2, will be unopposed on the April 7 general election ballot. First-time board candidate Kelley Bethell-Smith will also be unopposed for the board's at-large seat Sheryl Gill currently holds. Gill said earlier this month she would not seek another term.
Although this is her first foray into politics, she considered running four years ago, Bethell-Smith said. The timing was right for her to run this year after she completed her master's degree in academic advising and counseling from Kansas State University and finished terms on a number of boards on which she served, she said.
"I thought about running for a long time," she said. "I enjoy serving on various boards. A lot of this has to do with the fact there are going to be a lot of challenges and tough decisions. I care very much about students because I have two, and I care about teachers."
Bethell-Smith is the bookkeeper for the communications consulting business she and her husband, Tess Smith, own, and she is also the voice instructor for the Baldwin Academy of Dance and Voice. She's active at Baldwin First United Methodist Church and with the local PTO.
Although she has no opponent, Bethell-Smith she would communicate her message to district patrons in person and through social media.
The candidates in this year's only contested board race for District 3, Position 3, incumbent Chad Christie and challenger Jay Hundley, share Bethell-Smith's concerns about the tough decisions facing the board in the next four years with likely cuts to K-12 education in the face of shrinking state revenue.
"Whoever wins this seat, it's going to be four tough years," said Hundley, who ran unsuccessfully for the school board eight years ago.
As a woodworking and welding teacher at Lawrence High School, he could add a valuable viewpoint to the board, he said.
"Being a teacher, I see one side of education," he said. "I'd like to see the other side as a board member. I would look at it from a teacher's perspective, but as a board member I would have to take into account the money the state gives us."
Christie, who first was elected to the board four years ago, said there was a learning curve for board members, and he is just now getting a full grasp of such things as the budget. He is running for re-election because he enjoys serving and to preserve the board's continuity.
"I feel like we have a good board," he said. "It's not going to be an easy next four years. That's another reason to stick together and make decision on things we started."
Board continuity was a big part of his decision to run for a second four-year term, Harris said.
"The past four years, the board has had to make some difficult decisions," said Harris, who is now teaching in the Ottawa school district after retiring last year from the Shawnee Heights district. "We have a way of being able to discuss things and come together with a consensus. I like doing it, and I like being part of the community."
His goal during his second term was to find ways to increase public input in the district and involvement at board meetings, Harris said.