Health Focus: One foot in front of the other
Lawrence artist's epic hike inspires others to tackle new goals one step at a time
Joanne Renfro set a goal for herself that involved a long walk. A 2,180-mile walk.
Renfro, an artist who lives in Lawrence, had always wanted to hike the Appalachian Trail, one of the longest continuously marked footpaths in the world. It goes through 14 states along the Appalachian mountain range from the southern terminus at Springer Mountain, Ga., to the trail's northern end at Katahdin, Maine.
Her experience, which she detailed during a standing-room only presentation this month at the Lawrence Public Library, was a physical and mental challenge that she had been determined for years to tackle. "I don't want to have regrets about the things I wanted to do but didn't," Renfro said.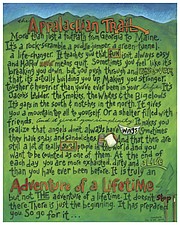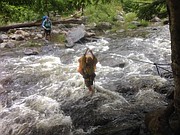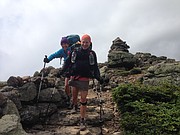 But setting physical and mental goals, in the new year or at any time of the year, doesn't require epic hikes and grueling activities. For many, just going for a walk can be a definitive goal that sets their life in a new direction.
Stephen Ilardi, professor of clinical psychology at Kansas University, explores lifestyle-based intervention to combat clinical depression and other psychological disorders, He has years of experience running a 12-week Therapeutic Lifestyle Changes program at KU, which helps treat and prevent clinical depression and psychological disorders through exercise and other modifications.
His patients aren't hiking the Appalachian Trail, but they're often finding that making small changes can have big effects.
"As we're finding in medicine more broadly, the way we live has a profound influence on what our bodies and brains are doing," Ilardi said.
Getting people to take that first step makes sense when most people think about it; we know we will probably feel better if we are more active. But actually doing it can be a challenge, even though the benefits to both physical and mental well-being are well documented and have shown to improve our neurochemistry, Ilardi said.
"It doesn't take a lot of physical activity to change brain function; we're talking about brisk walking for 30 minutes three times a week," he said. "That has an anti-depressive effect for many people at least."
Renfro took her brisk walks and dialed them up a notch: She prepared for her hike by filling her pack to about 30 pounds and walking in her neighborhood.
She runs and works out and is relatively fit in "real" life, she said, but she used the trail as her ultimate training ground. "Hiking for eight to 10 hours a day up and down mountains gets you in the best shape of your life, for sure," she said.
What Renfro did, though, resonates with all of us regardless of our goals, Ilardi said. She used her situation to help her find the willpower to keep moving. She took the leap and got on the trail, putting one foot in front of the other. And it isn't just the hike that brings about a benefit. Just being outside has a therapeutic affect, Ilardi said.
"She wasn't just getting the benefit of the exercise, but also the immersion in nature, which we know has an array of other physical and psychological benefits."
Renfro definitely recognized the role natural beauty played in helping her push herself during her hike. "There is so much to see around you, and the terrain is always changing, that it keeps your mind from dwelling on the little aches and pains," she said. "Basically, you learn that if you push through being tired, that there is a whole lot more in the tank than you thought there was."
Ilardi admits there's no magic pill that replicates the benefits of regular activity, a change of scenery and a healthy diet. If there were, pharmaceutical companies would already be doing it. "People would pay anything for it; the effects are that profound," he said.
What he does recommend is getting help. "Investing in a personal trainer for most people will be the single best investment they've ever made," he said. Because they don't have the willpower, if they're not physically active right now, without some help from someone; they probably aren't going to have the willpower to make it the kind of habit that's going to be self-sustaining."
Renfro's advice for someone trying to reach a goal, whatever it may be: Do what needs to be done to make it happen. "We all have obligations and busy lives and such, and we can use that as our excuse for not going after those goals because it may seem irresponsible or frivolous," she said. "Besides raising my kids of course, this was absolutely the most amazing, life-changing experience ever."