Double Take: Getting organized can help teens avoid mayhem
Wes: January is National Get Organized month. Who knew? Susan Pinsky, for one. She wrote the Foreword for "I Always Want to Be Where I'm Not: Successful Living with ADHD," which she also helped to reorganize. It must have worked. The book is doing great, especially on Audible.com where it's No. 1 in books about ADHD. Her book, "Organizing Solutions for People with ADHD" is very popular with my teen and young adult clients and families.
Here's a little secret I've learned over the years: Organization isn't just for people with ADHD. In fact, I've come to realize that the secret of happiness is how you organize your life. I realize that's a bit of a letdown. We'd rather see happiness as something magnificent like meditating toward a higher state of consciousness or perhaps something trite yet unattainable, like, "look on the bright side," "seek your true love," "have courage," "be proactive," or "give yourself choices." But a catchy mantra, no matter how much you practice it, can't create happiness unless your life is organized so you can gain its benefit. All your stuff — tangible, emotional and psychological — has to fit together.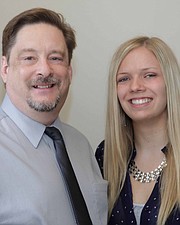 For parents, having a disorganized teen leads to all manner of mayhem from family conflict to school failure along with a truckload of mutual frustration. Susan and I both offer numerous strategies parents can use to help their teens get it together, and Kyra offers several below. At the top of my list is perhaps the most important organizational task any of us can ever perform: prioritizing. In terms of life-impact, there's no comparison between a disastrously messed up room and a disastrously messed up academic life. Bad time management at school or in a part time job is always more dangerous than failing to do chores on time.
Find the most important aspects of a teen's life and apply the most powerful strategies. Everything else will follow.
Kyra: Until 10th grade, I kept track of school activities and assignments in my head. Well, mostly. Every once in awhile I would frantically complete an algebra assignment over lunch or during a history lecture. And I'll admit that uneducated lucky guesswork helped me pass more than a few forgotten tests. By junior year however, I discovered that my haphazard approach would eventually demolish my GPA and instigate parent-teacher wrath.
School doesn't need any assistance to be stressful. It does just fine on its own. So, here are some useful tools to decrease anxiety and increase free time and sanity:
Use The Planner: School-provided planners provide a handy date-labeled box in which to note important assignments or events. For me, nothing is more exciting than marking off a completed work with a colorful pen. That's just the thrilling life I lead. And, if the pen-and-paper method feels too 1994 for you, smartphone apps like "myHomework Student Planner" and "The Homework App" let you go digital.
Quiet: When tackling homework, throw your phone out the window and turn off those bumpin' beats. Text and Twitter alerts are the natural enemy of productivity. But if music "helps you think," Spotify, YouTube and Pandora have great classical playlists designed to improve attentiveness. I'm currently listening to "6 Hours of the Best Beethoven­ — Classical Music Piano Studying Concentration Playlist Mix." Not anything I'd play at a party, but it helps get the job done.
Strategy: As much as I want to, I can't do my AP Lit homework when I get home from school — I like it too much. If I finish Lit at 4 p.m., I'll procrastinate my other work, so I start with my math homework and reward a completed lesson with a chapter of The Picture of Dorian Gray. Don't just say, "I'm going to go do my homework." Allot time for each individual subject in such a way that you feel motivated to complete everything.
On the Air: Join Dr. Wes and Susan Pinsky on Up to Date with Steve Kraske at 11 a.m. Jan. 19 to discuss how to organize teens for success in school, family and life in general. The show broadcasts on KCUR 89.3 FM and kcur.org. The podcast will be available later in the day on www.dr-wes.com.
Wes Crenshaw, Ph.D., ABPP, is author of "I Always Want to Be Where I'm Not: Successful Living with ADD & ADHD." Learn about his writing and practice at dr-wes.com. Kyra Haas is a Free State High School senior who blogs at justfreakinghaasome.wordpress.com. Send your confidential 200-word question to ask@dr-wes.com. Double Take opinions and advice are not a substitute for psychological services.