Baldwin girls cruise to 51-17 victory against Highland Park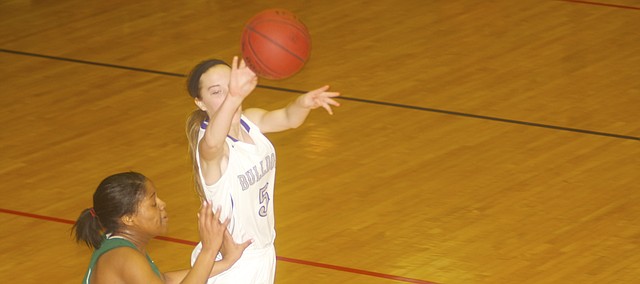 The Baldwin High School girls tuned up Wednesday for a busy and tough stretch with an easy 51-17 non-league victory against Highland Park.
The Baldwin High School girls on Wednesday jumped on the Topeka school from the opening tip. After giving up the game's first field goal, Baldwin scored 14-straight points. It was an efficient run with the Bulldogs getting six early inside points from senior center Alexia Stein and four more forward Maddie Ogle.
Baldwin's aggressive man defenses shut down the Scotties' offense and forced 12 first half Highland Park turnovers. The Bulldogs were able to convert many of Highland Park's missed shots and miscues into fast break points as they pulled away to a 33-10 halftime lead.
For the second-straight game, Baldwin coach Bob Martin made note of how well the Bulldogs the ball but was also impressed with his team's overall play.
"I thought we played very well tonight," he said. "We kind of got on a roll and really clicked. We're getting better."
The Bulldogs will find out just how good they are in the next two weeks. Baldwin has the rest of the week off before playing Wellsville in its opening game at 6:30 p.m. Monday in the Wellsville Top Gun Tournament. The Wellsville tournament only has a six-team field this year and has adopted a pool play format. Two strong teams, Bonner Springs and Piper are in the other pool, Martin said.
The Bulldogs will return to Frontier League play Feb. 3 at home against De Soto. Martin said De Soto is tied with the Bulldogs for second in the league. Baldwin will play Paola, the league's first-place team and the only team to beat the Bulldogs this season, on the road Feb. 6.
"It will be an interesting two weeks," Martin said.
Baldwin 51, Highland Park 17
BHS 17 16 11 7 - 51
HPHS 3 7 5 2 - 17
Baldwin scoring: Emma Stewart 2, Abby Ogle 5, Taylor Cawley 10, Kyna Smith 4, Corey Valentine 6, Alexia Stein 8, Maddie Ogle 12, Lily Fursman 4
Highland Park scoring: T. Smith 3, D. Pead 2, K. Tucker 4, A. Smith 1, E. Springfield 1, A. Tyson 6