Gravel grinder brings more than 100 cyclists to Baldiwn City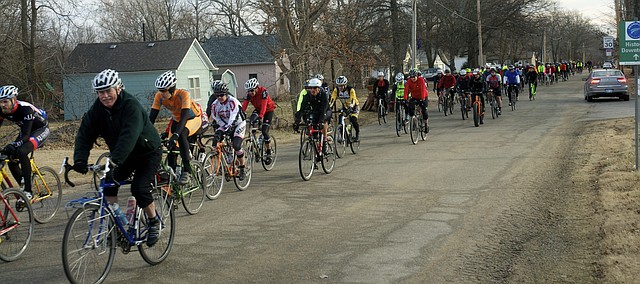 Although Don Martin finished Saturday's 28-mile Mullet Ride of gravel roads near Baldwin City, he didn't do them all from the seat of his bike.
The Olathe man is a dedicated enough biker to have completed extended rides of from 10 to 30 miles on his mountain bike since the start of the year, but he still found the rural Douglas County roads around Baldwin City a challenge.
"Go ahead and ask if I got off the bike on that big hill," Martin said. "I did push it up the gravel hill. It was a fun ride."
That big hill was on Douglas County 1600 Road just north of Baldwin City, said Gerard Arantowicz, the ride's organizer. Martin was one of the many of the about 120 riders were forced to walk their bikes up the hill.
"We call it Dead Squirrel Road," he said. "A lot of people were pushing bikes up the hill because it has fresh gravel on it and a 23-percent grade. You can't stay on the bike because your back tire slips out from under you."
The climb came after the bikers zipped down the same incline into the Vinland Valley a mile to the west at speeds of up to 50 mph, Arantowicz said. There were a few spills during the ride but thankfully not going down that slope, he said.
It was the 12th year for the ride and by far the biggest, Arantowicz said.
"I calculated we had 120 riders, based on Facebook and the stragglers who showed up late," he said. "We're never going to top that. It was the perfect storm. Next year, we might only get 50 if it's wet and cold."
The combination of mild weather and the chance to log training miles for the Dirty Kanza 200 and other spring and summer races contributed to the big turnout, Arantowicz said. The Dirty Kanza is an early June gravel grinder through the Flint Hills that has earned a national reputation.
Forty to 50 of the riders made two circuits of the Mullet Ride course and some of those would bookend that mileage with rides to and from Lawrence, Arantowicz said. Those were the riders with $5,000 carbon fiber bikes already in serious training for Emporia, he said.
But, of course, some riders took a more recreational approach to Saturday. Such was the case of Rod Redburn of Oswego and Bill Carnahan of Parsons. They left their southeastern Kansas homes at 6:30 a.m. to drive to Baldwin City for the Mullet Ride.
Gravel rides are becoming very popular because of the influence of the Dirty Kanza, Carnahan said. With that popularity is the recognition that Kansas has many challenging country roads, such as those he rode Saturday, he said.
"It's a pretty good course," he said. "It really got steep in places."
After riding 28 miles, Redburn and Carnahan were asking about places to eat in Baldwin City. One of his goals in organizing the ride was to give local businesses a boost, Arantowicz said.
"I was kind of worried because we took up a lot of parking along High Street," he said. "But all the feedback was positive. Everybody got along fine. Baldwin is a very friendly town."