Ottawa 3-point marksmenship sinks Baldwin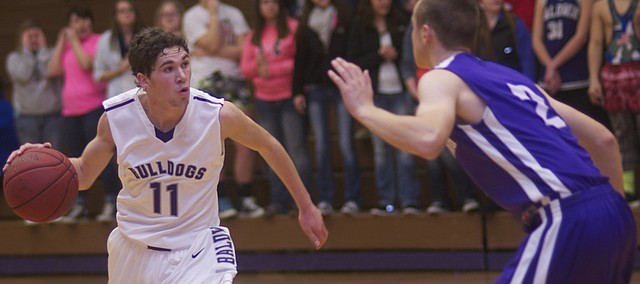 Ottawa used a barrage of second-quarter three-pointers Tuesday to break away from Baldwin to earn a 65-37 Frontier League road victory.
Baldwin started the game well, leading most of the first quarter and trailing 12-10 heading into the second period. The first eight minutes saw the Bulldogs effectively run their offense, working the ball through center Christian Gaylord. The 6-5 senior had four points in the quarter and Jackson Barth, Garrett Burkhart an Eric Peterson found the net.
It came apart for the Bulldogs in the second eight minutes as Ottawa got hot from behind the three-point line. The Cyclones connected on five treys in the period, three from 6-4 sophomore Isaac McCullough.
Ottawa's offensive success allowed it to set up its three-quarter court zone press, which forced seven Baldwin turnovers. The combination of hot shooting and pressure defense helped Ottawa build a 40-17 halftime lead.
"Every team we play is arguably going to have more talent and they are definitely more experienced," Baldwin coach Paul Musselman said. "So our margin is just so slim, and we have not played a clean enough game to be in contention.
"It was a different kind of press. They let you catch and if you go onto less than ideal places on the court, they come at you. We just didn't handle it well."
Baldwin played Tuesday without senior Brock Randels, who was injured in Friday's game against Louisburg after sparking a fourth-quarter comeback that forced overtime.
Unfortunately for the Bulldogs, Louisburg scored off the opening tip of the extra period and scored the remaining six points of overtime.
The Bulldogs erased a 12-point halftime deficit to force the extra period, starting with a solid third quarter that saw Baldwin outscore the visiting Wildcats, 17-10.
Musselman said his team played aggressively in the second half after starting the contest flat.
Randels scored 9 of Baldwin's points in the third period as the Bulldogs outscored the Wildcats 17-10 in the period. He would add two in the fourth quarter before a leg injury force him out of the game.