Baldwin superintendent says additional won't flow immediately from court ruling on education funding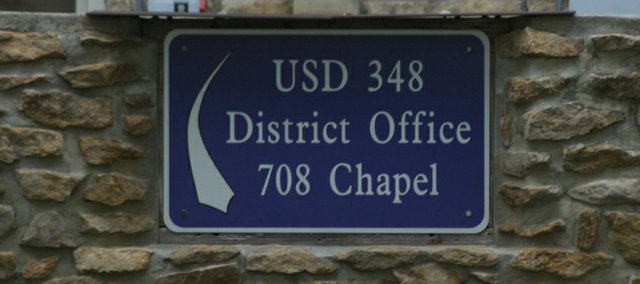 Despite last week's court ruling finding the state's K-12 education funding constitutionally inadequate, Baldwin USD 348 Superintendent Paul Dorathy doesn't expect to see additional money coming the district's way soon.
Last week, a three-judge panel in Topeka ruled the Kansas Legislature was failing in its duty as mandated in the state constitution to adequately fund K-12 education. That's good news to public school districts now receiving $548 less in annual base per-pupil state aid than they did in 2009 when funding was cut as the recession shrank state revenue. But the Baldwin superintendent noted the judges didn't order a remedy that would immediately pump more money into local school districts.
Rose standards
Seven Rose standards
Provide sufficient oral and written communication skills to enable students to function in a complex and rapidly changing civilization,
Provide sufficient knowledge of economic, social and political systems to enable the student to make informed choices.
Provide sufficient understanding of governmental processes to enable the student o understand the issues that affect his or her community, state and nation.
Provide self-knowledge and knowledge of his or her mental and physical wellness.
Provide sufficient grounding in the arts to enable each student to appreciate his or her cultural and historical heritage.
Provide sufficient training and preparation for advanced training in ether academic or vocational fields so as to enable each child to chose and pursue life work intelligently.
Provide sufficient levels of academic or vocational skills to enable public school students to compete favorably with the counterparts in surrounding states, in academics or job market.
Source: Kansas Department of Education
Instead, the judges ruled the case wouldn't be dismissed until it deemed the Legislature took what it deemed "appropriate and necessary judgments" to adequately fund K-12 education and those solutions given time to prove adequate. Dorathy said the court agreed the Legislature should be given adequate time to address the ruling.
The judges also found the last time K-12 education was adequately funded was 2008-2009, when base state aid was $4,400 per pupil. The panel put forward levels of per pupil state aid that would meet adequate needs, which would require from $548 million to $771 million more in total state aid, a whopping sum even if the state wasn't facing a $400 million shortfall in revenue for the next fiscal year.
Any proposed remedy could be phased in, as was the case after the Kansas Supreme Court found in 2005 education funding was inadequate, Dorathy said. At that time, the Legislature responded with a three-year plan that raised base per-pupil state aid from $3,863 to $4,400.
Another factor in any legislative remedy is a probable appeal of the panel's ruling to the Kansas Supreme Court. Dorathy doubted that would be successful given the Supreme Court's 2005 ruling on adequate education levels and because the Supreme Court appointed the three-judge panel with the task of determining whether the state was adequately funding education based on the Rose criteria. Those criteria were borrowed from in a case in Kentucky with similar issues and set funding standards used in Kansas courts and written into state legislation. (see accompanying info graphic).
Even before last week's ruling, Gov. Sam Brownback and Republican leaders in the Legislature were talking of revisiting the state school finance formula first adopted in 1992. The formula is complicated with the added per-pupil funding it provides for such things as students on free and reduced lunches and providing poorer districts with additional revenue.
A state funding formula without equalization measures would be contrary to past Kansas Supreme Court and U.S. Supreme Court rulings on their necessity, Dorathy said. That could make it difficult for the Legislature to save any money from an overhaul of the school funding formula, as would the court-ordered direction to adequately fund K-12 education.
The Legislature's recent efforts to tweak education funding were not well-received in last week's ruling, Dorathy said. Last year, the Legislature directed revenue from local option budget mill levies be sent to the state and then redistributed to local districts.
The change allowed the Legislature to claim it was increasing state aid, but the panel found LOBs were a local tax and the revenue they provide shouldn't count toward the state's constitutional mandate to provide adequate funding, Dorathy said. In simple terms, the court ruled state base per-pupil aid should provide the revenue needed to fund day-to-day basic operating costs and not a local tax meant to provide educational enhancements above an adequate education.
"The LOB portion of the Kansas school finance formula is not so sufficiently designed today, nor was it structurally originally intended, to stand as a failsafe funding mechanism that would assure each and every Kansas K-12 student the education our Kansas constitution commands and is designed to ensure," the judges wrote.
Similarly, the panel found state aid to local districts in support of such things as capital outlay funds, bond and interest debt, KPERs and special education should not be counted toward meeting its obligation for adequate funding, Dorathy said.
The Baldwin school district is forced to use revenue from its 20 mill LOB in such a way the panel criticized.
"It pays teachers' salaries, utilities costs and day-to-day operating expenses," he said. "We're glad be have it. I not sure where we would be without it."