Baldwin headed to state with record 10 wrestlers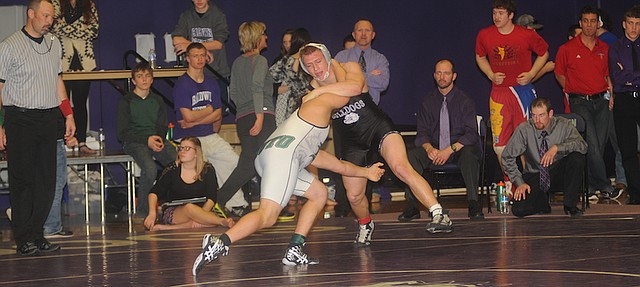 A record 10 Baldwin High School wrestlers qualified with this weekend's state 4A final as the Bulldogs swept to regional championship.
Competing in their home gym Friday and Saturday in the 16-team regional, three Bulldogs, Thomas Lisher at 138 pounds, Jon Pratt at 152 pounds and Jake Katzer at 195 pounds, earned regional championships when they defeat familiar opponents in title matches. Two others, sophomore Levi Green at 106 pounds and senior Joel Halford at 170 pounds lost close decisions in their championship matches. Junior Owen Tuckfield finished second at 160 pounds,
"Regionals become like that, a real dogfight," Baldwin coach Kit Harris said. "I'd say we won a lot more than we lost. The ones we lost, there were just a few mistakes. The effort was there."
Setting a record number for state qualifiers was among the goals the team made at the start of the year, along with earning Frontier League and regional titles, Harris said.
The Bulldogs won the regional team championship with 189 points. Holton was second with 160.5 points, and familiar foe Basehor-Linwood was third with 135.5 points.
Katzer had the most difficult title match, needing extra time to defeat Jeremy Slitor of De Soto. The match's third round ended with a 1-1 tie when Slitor got an late escape. Katzer quickly got the point back with an escape in overtime and managed to control his De Soto foe through the remaining added time.
"It was a pretty low-scoring match," Katzer said. "That happens sometimes, especially when two people wrestled before and kind of know what each other is going to do. I'm pretty good on bottom, I knew I could get away."
Katzer said the team's goal now is to build on its performance at the regional.
"I've never been to state before, so I don't know what to expect," he said. "We have a really good shot at winning, We're ranked No. 1, and have some really good guys."
Also earning state berths were freshman TJ Hopper at 113 pounds, junior Ben Morgenstern, fourth at 126 pounds, Joel Katzer, third at 170 pounds, and senior Gunther Wehrman, fourth at 220 pounds.
Junior heavyweight Alex Cigard lost a one-point decision in his bid to qualify for state. Harris said Bulldogs Griffin Wehrman, 120 pounds, Ethan Temple, 132 pounds, and Schott Harman, 145 pounds, also picked up points to contribute to the team victory.
Regional team results
1-Baldwin, 189
2-Holton, 160.5
3-Basehor, 135.5
4-Bonner Springs, 128
5-DeSoto, 103
6-Santa Fe Trail, 95
7-Tonganoxie, 93.5
8-Jeff West, 84
9-Bishop Ward, 57
10-Bishop Miege, 46
11-Royal Valley, 43
12-Atchison, 35
13-Sumner, 31.5
14-Eudora, 27
15-Piper, 19
16-Perry-Lecompton, 6