Baldwin girls bounce back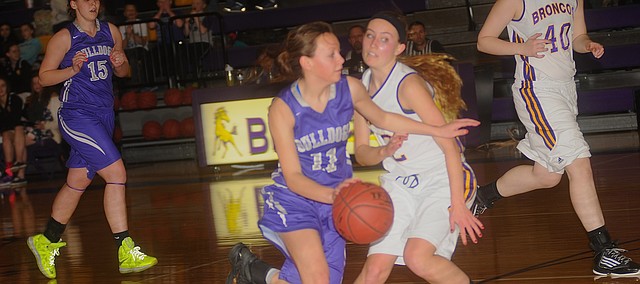 The Baldwin High School girls on Tuesday put a tough loss behind them by burying Spring High, 56-26.
The win followed a tough last-second 41-39 loss Friday at Ottawa.
The Bulldogs' bounce back started with the tip Tuesday as the Bulldogs raced to a 19-7 first-quarter lead.
Any chance of a Bronco comeback ended when Baldwin reeled off a 25-10 third quarter. It was a blitz that continued when Martin showcased Baldwin's depth by sending in five players from the bench midway through the period. Ten Bulldogs got into the scorebook, led by senior Maddie Ogle and sophomore reserve Taylor Cawley, who both pumped in 10 points.
In contrast to the Spring Hill game, the Bulldogs got off to a slow start Friday at Ottawa, falling behind 15-9 after the first quarter. Baldwin fought to catch up the rest of the game and finally caught the Cyclones at 39-39 when freshman Abby Ogle made both charities after being fouled on a drive to the basket with 24 seconds to play.
Ottawa got the victory when guard Corie Fischer found center Brette Moore in the lane of the winning basket as time expired.