Baldwin boys breakthrough on road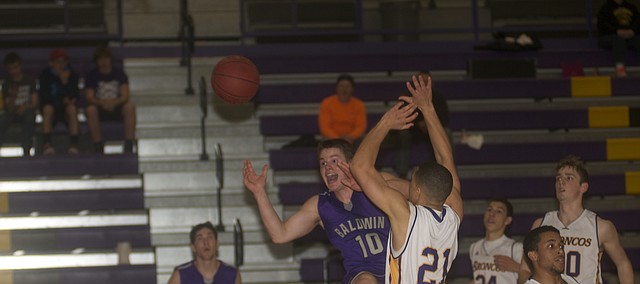 The Baldwin High School boys basketball team earned its first true road game win of the season with a 44-41 victory Tuesday at Spring Hill.
Although the Broncos did knot the score on a number of occasions, the Bulldogs never trailed in the game after jumping to a 6-0 start on three early inside baskets from center Christian Gaylord. The senior finished the game with 14 points and 12 rebounds. Three other Bulldogs, senior Brock Randels and juniors Austin Ward and Jackson Barth, responded with baskets after the Broncos cut the lead to, 6-4, giving BHS a 12-7 advantage at the end of the first quarter.
The Bulldogs were able to maintain a slim lead through most of the contest and led 28-26 at the end of the three quarters.
Baldwin would expand the lead to 33-28 when Barth connected on a trey with five minutes to play. Things looked even brighter for the Bulldogs when Randels picked up the fifth foul on the Broncos leading scorer, senior Danny Hodge, with 2:37 left in the game and made 1-of-2 free throws to give Baldwin a 40-33 lead.
Spring Hill fought back with five-straight points to close within two at 40-38 with 2 minutes to play. Baldwin, however, was good enough against the Bronco press and at the free throw line to gain the victory, Barth sealed the contest with two charities with 7 seconds remaining.
"It ebbed and flowed a lot, a lot of exchanges in momentum and a little bit of maneuvering around fouls, but we felt pretty confident after playing them close the first time after digging a big hole that it was a team we could play with," Baldwin coach Paul Musselman said. "I thought we sustained our energy pretty well."
Baldwin ran into too much three-point shooting in losing 71-27 Friday at Ottawa.
Musselman said the Bulldogs would try to use Tuesday's victory as a springboard when they travel to De Soto for a winnable game Friday and prepare next week for a first-round regional matchup Thursday against Osawotamie at Perry-Lecompton.
"After everything we've been through, this late in the season it's all about getting a little bit of momentum and grow as best we can to take advantage of the opportunities we have left," the coach said.