Paola too much for Baldwin boys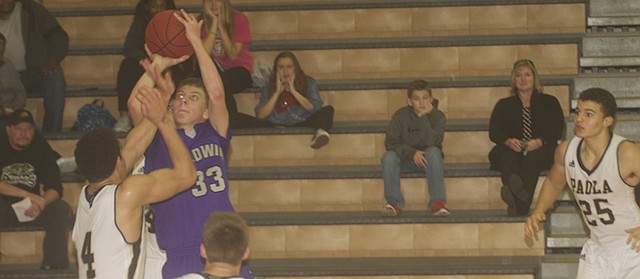 Paola — The Paola High School boys raced to a 13-0 first-quarter lead Tuesday and never looked back to down Baldwin, 65-30, in opening game of the Frontier League for both teams.
Paola enjoyed a decided height advantage in the contest with 6-7 senior starters Mason McDow and Alex Wilson and 6-5 junior Tanner Maola coming off the bench. The three bigs combined for 18 points with Wilson and Moala both notching eight points. Their length was a bigger presence on the defensive end where they blocked numerous Baldwin shots, and their command of the defense boards contributed to the Panthers quick start.
Leading Paola in scoring was 6-3 sophomore Brandon Wilkes with 13 points, while senior point guard Justin Riddle added 12. Baldwin senior Jackson Barth led the Bulldogs in scoring with 11.
Paola (4-1) 21 15 23 6 - 65
Baldwin (3-2) 5 6 12 7 - 30
Paola scoring: Alex Slawson 5, Justin Criddle 12, Kyle Wokutch 9, Brian Jenson 2, Andrew Phillips 2, Brandon Wilkes 13, Mason McDow 2, Alex Wilson 8, Garon Johnson 6, Tanner Moala 8
Austin Ward 3, Hunter Ramirez 2, Nick Pattrick 2, Elliot Stiefel 2, Jayce Dighans 6, Jackson Barth 11, Tanner Jackman 4