Baldwin students outperform peers on state assessments; district wants better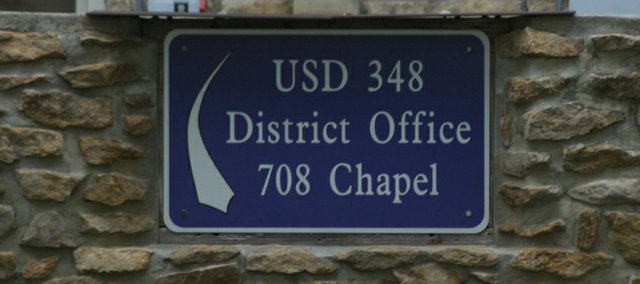 Baldwin school district students performed better than their state peers in the first Common Core assessment tests given statewide last spring in math and reading, but not as well as district officials would like.
The tests were the first associated with the Common Core standards the Kansas Board of Education adopted in 2010. They were administered last spring for math and reading, while the assessments for science continued to test for the previous standards.
The Kansas Department of Education posted the results of all state districts online on Dec. 9. at ksreportcard.ksde.org. Viewers can find the Baldwin district's results as a whole and those for all grade levels and the district's four buildings at the site.
"For the first time giving the new test, our scores are not bad," Superintendent Paul Dorathy said. "I think we need to get better, and I believe staff will be working hard to improve those scores. Hovering around the state average is not the goal or vision of this district."
Because this is the first year for the Common Core-based assessments in reading and math, the district has no past results to measure annual progress or lack of it. Dorathy added district administrators and teachers were further frustrated with the lack of data shared on student scoring. He explained the district receives the overall scores for each student in reading and math, but not how the student performed on specific questions. That doesn't allow teachers and parents to pinpoint the areas students need extra work, nor does it show possible areas where the district's curriculum or teachers aren't getting desired results.
Thus, Dorathy said, the teachers and principals don't know what specific areas they were teaching well and those they need to improve.
When he asked outside experts about how to make improvements, he was given the generic answers of making sure the district's curriculum aligns with the Common Core standards and that teachers are doing their best to teach to the aligned curriculum.
"We're already doing those things," he said. "Our teachers want to do it and work hard at it, but they just don't know exactly where they need to improve."
Dorathy said the situation was similar when the state first started assessment tests with the original standards. After a number of years, the state started sharing more test data so staff improvements could be made in specific areas through in-services and professional development, he said.
With the Common Core building report cards, student scores fall into one of four categories. Level 1 indicates a student is not performing at grade-level standards. Level 2 indicates the student is performing at grade-level standards but not on track for college success. Level 3 indicates a student is performing to academic standards and on track to be college ready. Level 4 indicates the student is performing above grade-level standards and is ready to succeed in college.
Districtwide on the math assessment, Baldwin had far fewer students test in level 1 than the state as a whole (15.82 percent compared to 23.13 percent) and more land in levels 2 (45.93 percent in the district to 43.7 statewide) and 3 (29.13 percent to 24.67), while nearly equaling the state percentage in level 4. The same was true in reading where 14.56 percent of district students scored in level 1 compared to 21.16 statewide, 39.07 percent tested in level 2 compared to 36.75 and 38.65 in level 3 compared to the statewide 34.1 percent.
Baldwin High School Principal Rob McKim said the standards with the Common Core assessments were much tougher than those of they replaced,
"We had students who did very well in reading on their ACTs and were not in level 4 on their assessments," he said. "While we're striving to get students at that level, it's something a low percentage will receive."
The reading and math test were given to sophomores at the high school, McKim said. He was confident most would be on track to succeed in college when they graduate, but agreed with Dorathy that the task would be easier with more data of student performance."
"I think the goal of all test should be to help the student," he said. "I'm ready to say this is a waste of time, but it would be a lot more helpful if we learned more about student strengths and weaknesses."
District students did very well in science on tests using the old standards for the final time. This spring, Common Core science assessment tests will be given to Baldwin students and others in the state. On that science test, more than 53 percent of the district's students tested in the top two of five levels.
The scores were made available online in the same week the U.S. Congress rewrote the 2001 No Child Left Behind act by passing the Every Student Succeeds act.
Dorathy said the new legislation removes the "race to 100 percent proficiency" that was the ultimate mandate of the original legislation and also does away with federally imposed assessment standards.
"We'll still be accountable, but it will be to the state not the federal government — the state is going to have more control," Dorathy said. "The federal government is not going to dictate what assessment standards states will be using.
"A lot of the things this district does has nothing to do with state assessments. We do this because we recognize kids need a good overall education that includes things like fine arts and physical education, so I think when the state does decide how that is to be accomplished in the future there will be other measurements of how well we are educating kids and state assessments will only be a part of that."