Baker fall gradutes told commencement day just the beginning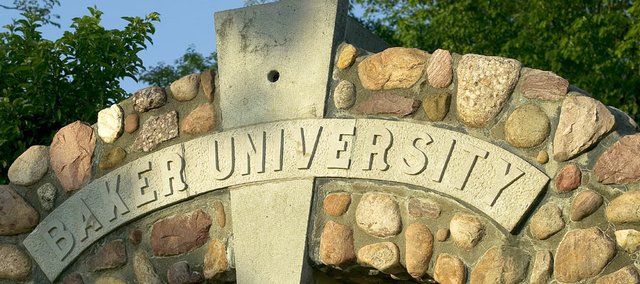 As if on cue, two of her instructors interrupted Angel Woods' post-graduation explanation of what made her years at Baker University special.
After sharing hugs with the instructors, Woods, was one of 181 Baker students to receive undergraduate degrees Sunday with the conclusion of the fall semester.
"It's kind of small here, tut it's really a tight community," she said. "They really care about you."
Woods, a member of the Baker's women's basketball team that advanced twice to the National Intercollegiate Athletic Association national finals during her time at the school, plans to work for a parks and recreation department but is already thinking beyond that job.
"I plan to get a master's degree in sports administration," she said.
In the hourlong commencement ceremony, Baker President Lynne Murray and NAIA CEO Jim Carr, keynote speaker for the commencement, encouraged such thinking, telling Woods and her fellow graduates that the day was just a beginning. Murray said the "first and best university in the state of Kansas" prepared the graduates well for the future, as demonstrated by Economist Magazine ranking the school in the top 50 nationally as a lifetime value and return on the student's investment.
"This echoes the (U.S) Department of Education's finding that Baker graduates earn higher salaries 10 years after graduating than any other university in Kansas," she said.
Speaking from his own experience, Carr shared four points of advice the graduates. He urged them to follow their passion, lean on those who care and love them, make sure they were good teammates, and take advantage of the liberal arts education they received at Baker.
"Baker teaches you how to think," he said, citing a message on the school's website about the importance of a liberal arts college education in nurturing inquisitive, analytical minds and problem-solving skills. "What that says to me is you learned how to think. No matter how much the world changes, no matter what is in front of you, you're ready for it."
Their Baker experience had provided a foundation for success in their careers, communities and personal relationships, Carr said
"You have so much ahead of you," he said. "I encourage you to envision your own success and make that success happen."
After the ceremony two other students said the degrees they had on hand would not be the end of their academic endeavors.
Laura Bradley said the associate's degree in business would for her business, but she wanted more.
"I have a daycare in Waverly," she said. "I plan to go back and get my bachelor's."
For Gillian Trotter, of Lawrence, Sunday was the end of her undergraduate quest she renewed after putting school on hold to start a family. It worked well for her as she graduated summa cum laude with a bachelor's of science in nursing and has a job with Stormont Vail in Topeka. Looking ahead, she said she was considering returning to school to become a nurse practitioner.