Baldwin boys earn tourney title shot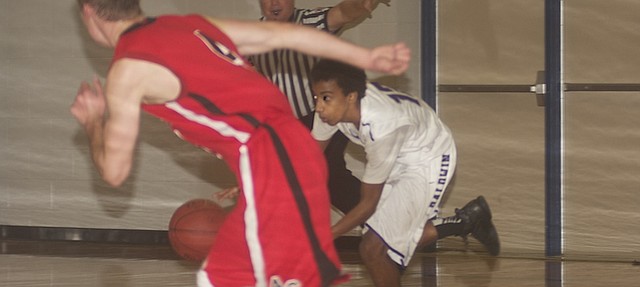 After last Thursday's season-opening victory against Tonganoxie, Baldwin High School boys basketball coach Paul Musselman gleefully said "1-0 has never felt better to anyone."
One can only imagine how euphoric he feels after his team improved to 3-0 with a 72-53 victory Tuesday against Anderson County in the second game for each team in the Bulldog-Wildcat Classic and earned a spot Friday in the tourney's championship game, but senior Jackson Barth, a starter during last year's long season, said the good-feelings weren't limited to the coach.
"We only had three wins last year total, so to have that many after the first three games feels really good," he said.
Barth said the team has embraced the uptempo style Musselman has installed for the team with limited height.
"It's fun to play with all these guys, playing fast," he said "We have really good team chemistry. We practice really hard together. We kind of know what each other is thinking."
The chemistry was on display Tuesday as the Bulldogs shared the ball, finding open players near the basket or on the three-point line. Four Baldwin players finished scoring in double figures in Barth, Tanner Jackman, Jeremy Williams and Jayce Dighans.
"Austin (Ward) and Jackson have a lot of experience, but a lot of those younger guys can contribute, so we try to make sure everybody knows they have the ability to pitch in," Musselman said. "I knew they could play hard, I knew they could play fast, I knew they could shoot it a little bit, but it's good to see them translate it on the court. I think it gives them confidence we can play with and beat people."
Baldwin was in charge from the beginning Tuesday, building a 16-11 lead at the end of the first quarter it never relinquished. The Bulldogs had a comfortable lead most of the game before an 11-0 run at the start of the fourth quarter, which included three-pointers from senior Nick Pattrick, junior Williams and sophomore Dighans, gave them a 72-46 and ended all doubt.
"It's all new territory," Musselman said of putting a team away. "Every experience is new, and they are better for getting through it."
The young Bulldogs passed a tough lesson Monday in the tournament's opening round with a 73-69 overtime victory against Chanute.
"We we're up by 14 with four minutes, and they obviously came back on us," the coach said. "We made some mistakes, grew up in the process and held on."
It is unsure at press time who will be Baldwin's foe in Friday's title game. Each team in the six-team tournament plays two opening games in pool play to determine brackets for a final round of play. Baldwin will play the top team from the other pool of host Louisburg, Iola or Burlington.
The Bulldogs entered the tournament after an opening-season victory last Thursday against Tonganoxie. Baldwin rode hot shooting from behind the arch to gain the season-opening 60-50 victory. In that contest, seniors Barth and Austin Ward knocked down treys on the Bulldogs' first two possessions of the third quarter, expanding the team's narrow 22-21 lead to a seven-point advantage. Baldwin was able to play with the lead the way, in contrast to the back-and-forth first half. The two seniors lead the way for the Bulldogs with Ward scoring a game-time 19 points and Barth collecting 16.
The Bulldogs threatened to pull away on a couple of occasions in the second half, only to see the Chieftains reel them back in behind the aggressive pressure defense of senior point-guard Tyler Novotney, who collected six of his eight second-points off layups following steals. After his second steal-and-basket trimmed Baldwin's lead to 45-41, Baldwin responded with a basket from Ward and a Barth three-pointer, giving the home team a 50-41 lead.
Baldwin sophomore Dighans put the contest away with a three-pointer from the left corner with 1:20 remaining.
Baldwin 72, ACHS 53
BHS 16 22 23 11 - 72
ACHS 11 17 18 7 - 53
Baldwin scoring: Jackson Barth 14, Tanner Jackman 11, Braxton George 4, Jeremy Williams 15, Jayce Dighans 10, Nick Pattrick 6, Austin Ward 6, Hunter Ramirez 6 (
ACHS scoring: Trey Ahring 4, Mason Skiles 5, Chase Ratliff 5, Jacob Randle 21, Nick Levy 14, Derrick Nelson 4
Baldwin 60,
Tonganoxie 50
Baldwin 8 14 19 19 — 60
Baldwin scoring: Austin Ward 19, Hunter Ramirez 7, Nick Pattrick 5, Jeremy Williams 2, Braxton George 2, Jayce Dighans 7, Jackson Barth 16, Tanner Jackman 2 (three-point baskets, Ward 2, Ramirez 1, Pattrick 1, Dighans 1, Barth 3
Tonganoxie scoring: Logan Williams 2, Dylan Staatz 4, LeeRoi Johnson 6, Kyle Burge 7, Tyler Novotney 11, Dalton Trimble 8, Chandler Caldwell 12 (three-point baskets, Novotney 2, Caldwell 1)