Designs, cost estimates for potential Douglas County jail expansion may be ready by early next year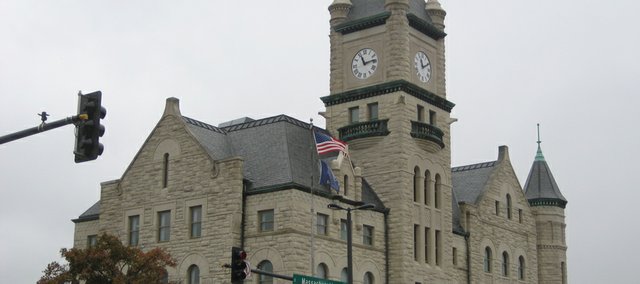 Preliminary designs and cost estimates for the county's potential jail expansion and mental health crisis intervention center projects may be ready early next year, it was revealed at a town hall meeting Monday evening.
The Douglas County Sheriff's Office, county officials and community partners held the meeting in the Douglas County Courthouse, 1100 Massachusetts St., where they outlined several of the group's conclusions from their work so far and detailed some of the area's needs.
The group also took time to answer questions and hear feedback from local residents about the project. About 75 people attended the meeting.
This summer, criminal justice consultants Huskey & Associates said their research within the county indicates that 18 percent of jail bookings are people classified as seriously mentally ill, or SMI. In addition, less than 20 percent of that SMI population had been convicted of a violent crime.
With those numbers in mind, many SMI inmates may qualify for treatments alternative to jail, the consultants said. Those alternatives may include opting to go through a mental health court, receive aid through private intervention, crisis intervention and more.
Looking further into the development of a mental health court, a crisis intervention center and a jail expansion, local officials involved in the potential projects visited crisis centers, substance abuse centers, jails and mental health courts in Lexington, Ky., Washington, D.C., San Antonio and Topeka. Those visits allowed the team to examine what other communities are doing to address similar issues.
During Monday's meeting, Dan Rowe of Treanor Architects detailed the jail's need to build classification units, establish more beds for women and find a way to accommodate inmates classified as SMI but who do not qualify for mental health court.
When an individual is booked into the jail, they are immediately examined and classified by the amount of security they will need within the jail, Rowe said. A classification unit would provide deputies with a designated area to ensure the classification process runs as smoothly and efficiently as possible. In addition, a classification unit could be outfitted to handle any slight fluctuations in the inmate population rather than forcing the jail to build an entirely new housing unit, he said.
"A classification unit would allow staff to review these people for 72 hours so they can be properly classified," he said. Currently, all inmates booked into the jail are classified in the medium-security pod, which "creates unsafe conditions in the medium unit because it mixes people who weren't intended to be mixed," he said.
Additional beds for women are meant to accommodate for a recent uptick in female inmates, Rowe said.
When the jail opened in 1999, there were 28 female inmates; currently there are 44, Rowe said. Female inmates the jail doesn't have room for are then outsourced to other jails in the region that have room for them.
Once a mental health court is established, Rowe said, there may be around 23 inmates at any given time who do not qualify or agree to participate in those services. This may mean the inmates have a history of escapes or violent crimes or do not wish to participate in the voluntary services.
With SMI inmates who do not qualify for mental health court in mind, Rowe said it is imperative that the jail provide a better environment taking their illness into consideration. Changes to jail cells might include incorporating natural lighting, providing a view or the company of another inmate, he said.
"It's not that you're trying to coddle an inmate," he said. "It's to find a therapeutic environment that does not make a person mentally worse."
The architecture team will continue its work to narrow down design options, which will also allow officials to begin estimating the cost of the project, Rowe said.
Douglas County Sheriff's Office Capt. Eric Spurling said so far 13 sheriff's deputies, 30 Lawrence police officers and three Kansas University public safety officers have completed crisis intervention training.
The training is meant to teach the officers how to recognize and handle a situation involving someone who is SMI, Spurling said. Two training sessions will be held each year, the next one will be this February.
This January, County Administrator Craig Weinaug said the county hopes to have a recommendation ready for Douglas County commissioners on a designer for the potential crisis intervention center project.
The crisis intervention center, which would potentially be located north of the Bert Nash Community Mental Health Center, would be a place where people with serious mental illnesses can go for treatment whether they've been arrested or not, Weinaug said.
KU social welfare professor Margaret Severson said the development of a mental health court, which would be used to divert SMI people to treatment alternatives to the jail, is ongoing.
"We'll probably be looking at doing a trial court, if we're lucky, some time next year," she said. "We're meeting in January to look at some of the meat as to how this would be rolled out."
Another town hall meeting will be scheduled in January to provide further updates on the potential projects, Weinaug said.