Baldwin City to be treated with a localized performance of classic holiday ballet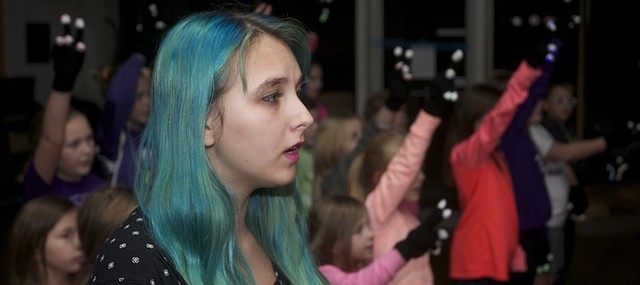 Shortly before Monday's rehearsal for the Baldwin Academy of Dance and Voice holiday program, Mithilda Middaugh recalled her audition for the role of Peyton the Peacemaker.
"I crushed it," she joked
But when she talks about the chance to be in the academy's Christmas show, "The Maple Leaf Nutcracker" or the message of peace her character shares, Middaugh becomes more serious.
"It's my first year because we just moved to town last year," she said. "I'm so happy my grandmother (Paula Bramlett) signed me up for the choir. She's a pretty chill lady."
Peyton the Peacemaker was added to the academy's adaptation and gets the ballet's child characters, Fritz and Clara, to stop fighting over the nutcracker gift before making a broader point, Muddaugh said.
"She has important things to say about the need for peace in the world," she said.
Unlike Middaugh, her friend Amanda Trowbridge has been in the academy's Christmas show for four years as a tumbler. She has seen the show grow from what was about a 30-minutes series of outtakes from Pyotr Tchaikovsky's "The Nutcracker" ballet, to this year's promised two-hour performance.
"It's grown to be a big deal," she said. "We have practices and rehearsals on weekends."
Kelley Bethell-Smith, the academy's voice instructor, said academy owner Courtney Williams was behind the Christmas show's evolution
"The whole thing was her vision," Bethell-Smith said. "It was her dream to provide as a service to the community a quality and affordable production of "The Nutcracker" for those who don't have the chance to go see the Kansas City Ballet or other productions."
The show has grown from a few numbers from "The Nutcracker" by the academy's advanced dancers to something that is now more than its source, which is reflected in this year's title "A Maple Leaf Nutcracker." Williams said the show was her and Bethell-Smith's collaborative adaption of the ballet, which is a Christmas staple of many dance companies.
"It's pretty traditional, but we added some touches to make it personal for Baldwin City," Williams said. "We like to view it as more a musical theater production than a ballet. It will have acting and singing to make it a community thing."
As such, the show will include a number of people who are not currently students in the academy, Williams said.
"It's not just students, there are community members involved — it's a community performance," she said. "We'll have a number of former students who are now in the dance program at Kansas University. We'll have male students from KU and Baker, and we have a young man from California who some of our dancers met at the Joffrey Ballet Camp this summer. It's the first time we've had many male roles filled.
Two members of the old Baldwin City Community Theater group, Matt Keller and Joe Bathke, will have roles in the show, as well, Williams said.
Recent academy shows have featured three things: the song numbers Bethell-Smith directs and lots of dance numbers and costumes. Williams said she was fortunate to tap into the academy's talented past and present staff for help in the latter two areas.
Helping with the choreography was current instructors Ashley Brittingham, who was a former prima ballerina with Tulsa Ballet, and Angela Murray, Williams said. She creates most of the costumes for the academy's performances, but former academy employee Susan Jansen, who know lives in Ohio and does work for the Boston Ballet and other companies, did provide two handmade costumes.
"We are very lucky in Baldwin City to have so much talent to draw from," Williams said. "We are amazed by it — both the knowledgable teachers who come here to share their skills and knowledge and the students who were at the Joffrey Ballet Company camp in New York last summer and are now sharing what they learned with the younger dancers."