Baker cafeteria to offer Baldwin City seniors meals through
CHAMPSS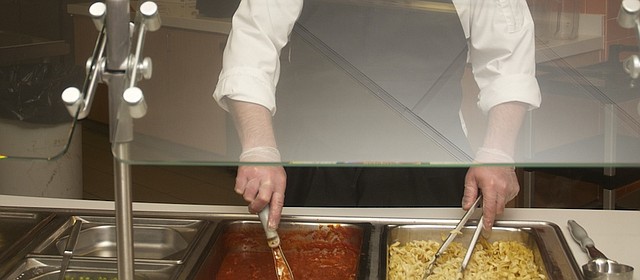 The clientele at the Baker University Harter Union cafeteria will be a bit more diverse at the start of next year.
Jocelyn Lyons, executive director of the Jayhawk Area Agency on Aging, said the agency and Sodexo, the contract food service provider for the university, have reached an agreement to provide senior meals at the cafeteria through the Choosing Healthy Appetizing Meal Plan Solutions for Seniors program. The program will start at the union Jan. 4.
CHAMPSS is available to all those 60 years of age and older and spouses regardless of income who live in the Jayhawk Area Agency on Aging service area of Douglas, Jefferson and Shawnee counties, Lyons said. To participate, seniors must have a CHAMPSS card, which they can register to obtain at three orientation meetings her agency is planning for Baldwin City. The meetings will be at 10 a.m. Friday, 2 p.m. Tuesday and 10 a.m. Jan. 4, she said.
"People must come to an orientation to get their CHAMPSS card," Lyons said. "If you have power of attorney for someone, you can register for them, but otherwise seniors must register in person to receive a card."
The CHAMPSS program replaces the senior congregate meal site that for years offered meals in the Baldwin City Senior Center in the basement of Baldwin Healthcare and Rehabilitation. When that site quit offering the noon meals at the end of September, it was averaging about four or five diners a day.
"I know we will do better than that," Lyons said. "We've already had more people than that sign up from the community for CHAMPSS in our Lawrence office."
The personalized CHAMPSS cards work like ATM cards and are good for a specific number of meals when issued, Lyons said. Participants can get them "reloaded" through an online site or phone number to be shared at the orientation meetings or by visiting the Lawrence Jayhawk Area on Agency location, 2001 Haskell Ave.
Participants are asked to pay $3 per meal, Lyons said. The program is subsidized and the $3 suggested charge doesn't cover the total cost of a meal, but does allow the agency "to continue the program," Lyons said.
Friends or family members can pick up meals for CHAMPSS participants with the card. Lyons noted that the Douglas County Senior Services home-delivery meal program will continue, but those on that program can't participate in CHAMPSS.
The CHAMPSS plans have proven popular with seniors and offers greater flexibility and variety than the old congregate sites, Lyons said. Instead of a single menu served during a specific time at congregate sites, the CHAMPSS program offers seniors the opportunity to select from a full menu with the exception of dessert items whenever the CHAMPSS site is open, Lyons said.
The arrangement with Sodexo developed when she actively looked for a local CHAMPSS site with the knowledge the congregate meal option was ending, Lyons said.
"When we were looking for providers, we made face-to-face contact with all the local restaurants," she said. "They reached back to us to say they were interested in talking more about it"
Jeff McCullough, general manager of Sodexo's Baker University operations, said he and his staff are excited about the program.
"From Sodexo's standpoint, hunger initiatives are a very big thing for us," he said. "This falls very much in line with our hunger initiative, and that it is for local seniors is very exciting."
The Harter Union cafeteria offers a breakfast menu from 7:30 to 9: a.m., brunch from 11 a.m. to 1:45 p.m. and dinner from 5 to 7 p.m. weekdays, McCullough said. The cafeteria is open for brunch from 10:30 a.m. to 1 p.m. and dinner from 4 to 6 p.m. Saturdays and Sundays, he said.
The cafeteria is closed when school is not in session for spring and fall breaks and during the summer, McCullough said. It will be open during the summer for camps and conferences, but he did not yet know the schedule for the coming summer, he said.