Face to Face: Ruth Blair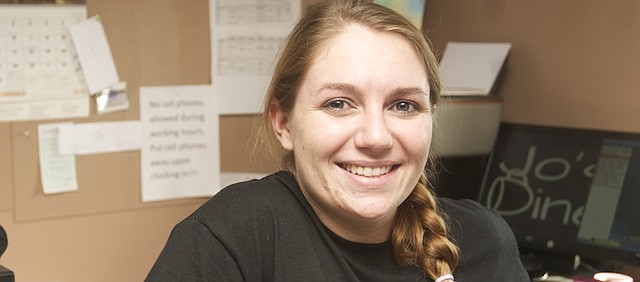 Name: Ruth Blair
Born: Blair was born in Shawnee, but grew up in Gardner.
Family: Parents, Ernest and Marilyn Turnley of Baldwin City, and 4-year-old daughter, Bristol.
Education: Gardner High School
Hobbies: "Sewing. Cooking is one of my favorite things. I read a lot of books and spend a lot of time with my daughter."
Ideal job growing up: "I wanted to be a veterinarian."
Career: Blair is a waitress and cook at Jo's Diner on U.S. Highway 56. She has been there for a year and a half, during which time the diner has had three owners.
Digging deeper: Blair said she commutes to her job from her home in Edgerton. She found Baldwin City through her parents.
Her love of animals survives from her childhood ambition of being a veterinarian, and she has two dogs and a cat. A perk of her job is the diner's location next to the small-animal vet clinic of Tim Jones. "I talk to him a lot," Blair said.