Baldwin boys hold off Tonganoxie for 60-50 season-opening victory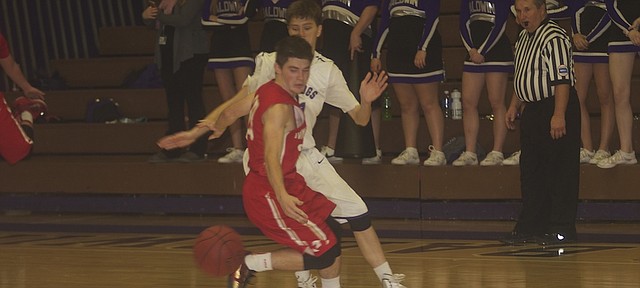 The Baldwin Bulldog boys rode hot shooting from behind the arch Thursday to a season-opening 60-50 victory against Tonganoxie.
Baldwin seniors Jackson Barth and Austin Ward knocked down treys on the Bulldogs' first two possessions of the third quarter, expanding the team's narrow 22-21 lead to a seven-point advantage. Baldwin was able to play with the lead the way, in contrast to the back-and-forth first half. The two seniors lead the way for the Bulldogs with Ward scoring a game-time 19 points and Barth collecting 16.
The Bulldogs threatened to pull away on a couple of occasions in the second half, only to see the Chieftains reel them back in behind the aggressive pressure defense of senior point-guard Tyler Novotney, who collected six of his eight second-points off layups following steals. After his second steal-and-basket trimmed Baldwin's lead to 45-41, Baldwin responded with a basket from Ward and a Barth three-pointer, giving the home team a 50-41 lead.
Baldwin sophomore Jayce Dighans, playing in his first varsity game, finally allowed the home fans to relax when he connected on a trey from the left corner with 1:20 remaining in the contesting, giving the Bulldogs a 57-48 lead.
Baldwin 60, Tonganoxie 50
Baldwin 8 14 19 19 — 60
Baldwin scoring: Austin Ward 19, Hunter Ramirez 7, Nick Pattrick 5, Jeremy Williams 2, Braxton George 2, Jayce Dighans 7, Jackson Barth 16, Tanner Jackman 2 (three-point baskets, Ward 2, Ramirez 1, Pattrick 1, Dighans 1, Barth 3
Tonganoxie scoring: Logan Williams 2, Dylan Staatz 4, LeeRoi Johnson 6, Kyle Burge 7, Tyler Novotney 11, Dalton Trimble 8, Chandler Caldwell 12 (three-point baskets, Novotney 2, Caldwell 1)