Guard rich Baldwin girls look to play up-tempo game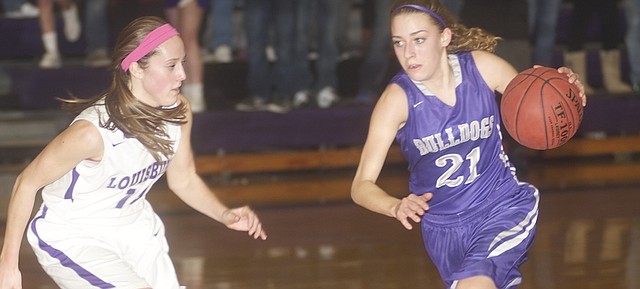 The formula for success for the Baldwin High School girls basketball team this season will be to play much like the team that defeated the Bulldogs in the 4A Division II state final last March.
After the Bulldogs romped through sub-state and the first two rounds of the state tournament, a shorter Hugoton team overcame the Bulldogs decided height advantage with quickness and hot shooting in the championship game. Gone from the 21-4 team of four players 5-10 or taller, all-state performer Maddie Ogle, Alexia Stein, Corey Valentine and Jordan Hoffman. Reserve Emma Stewart also graduated.
The Bulldogs certainly aren't devoid of retiring experience. In fact, they are rich with talent at guard, and coach Bob Martin said there would be times when the team had five guards on the floor. They return starting senior guards Madeline Neufeld and Kyna Smith. They shared minutes a year ago with Abby Ogle, who had a stellar freshman year, and sharpshooting Taylor Cawley, now a junior. Among those adding depth at the position will be seniors Courtney Douglas, Megann Lawrenz and Fayth Peterson.
The Bulldogs excelled with a pressing defense and open-court offense a year ago, but fans can look for even more this year with the team's depth and quality at guard, Martin said.
"We have a little bit of quickness and are not very big," he said. "We're going to have to do things like that to be successful. We have to find way overcome our lack of height.
"We have a lot of girls that got a taste of it last year, and want to do it again."
One of those would be Neufeld.
"Going to state was the best experience of my life," she said. "I want to be part of it again."
At 5-10, senior Lily Fursman returns to give the Bulldogs a post presence. Martin said junior Riley O'Rourke as also been working in the post.
The Bulldogs open Thursday at home against Tonganoxie, a team they handled easily a year ago. The big test will come a 5 p.m. Monday in their opening game against Chanute of the Bulldog-Wildcat Tournament, played this year in Louisburg. Chanute returns all of its starters from the team Baldwin defeated in the tournament finals a year ago.
"They're big," Martin said. "It will show us how well we handle height."
As for the Frontier League, Martin pegs Paola as the favorite, despite the loss of 6-2 Tiana Moala — now playing at Emporia State — from the 4A Division I runner-up. De Soto also looks to have a strong team returning, he said.