Fireworks to add zest to Baldwin City's annual Festival of Lights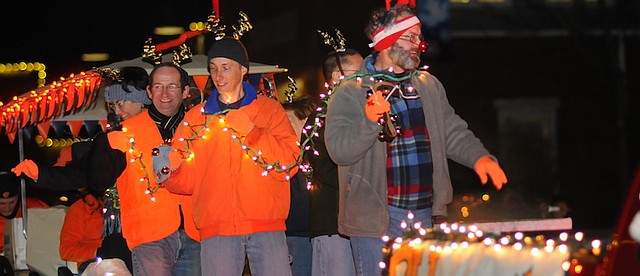 Baldwin City's annual greeting of the Christmas season will get a bit of added zest this year with the inclusion of an element associated with another holiday.
Tammy Michael, recreation specialist with the Baldwin City Recreation Commission, said she and fellow Festival of Lights organizer Lucretia Carlson have added a touch they hope will attract more people to Baldwin City and bring community residents out for the day's events.
New this year will be a fireworks show, which will originate from the parking lot of Antiques on the Prairie and Sixth and High streets.
"It won't be as big as our show on the Fourth," Michael said. "It'll be from eight to 10 minutes. We want to show Santa where to land."
Michael said it was hoped the fireworks show would motivate more businesses, clubs and organizations to participate in the parade and encourage more downtown businesses to be open during the evening's activities.
Although one feature that is hoped will attract community members is a BCRC raffle for a 62-inch television. The winner will be announced at 7 p.m.
There will be plenty to entertain children during the day. Child-orientated activities include the BCRC's morning Breakfast with Santa at the Baldwin Elementary School Intermediate Center, a gingerbread house building afternoon activity at the Lumberyard Arts Center, 715 High St., and the parade and its final opportunity for youngsters to meet and pose for pictures with Santa Claus.
Adults can tour selected homes decorated for the holidays, enjoy Victorian carols at the Lumberyard or bid on holiday decor for their home at the art centers' annual Festival of Trees and Wreaths.
The Baldwin Academy of Dance and Voice, 723 High St., will offer attendees a place to warm up and an opportunity to do some Christmas shopping. Academy voice instructor Kelley Bethell-Smith said the academy would have a craft show with a wide variety of items from 5 to 7:30 p.m. It would also provide hot chocolate and other treats for visitors, she said.
Once again the day's highlight will be the Festival of Lights Parade. The annual parade features floats, vehicles and sometimes people and pets strung with holiday lights.
"You don't have to enter a float," Michael said. "You can just walk the parade wearing a string of lights. We have people do that every year."
Bringing up the rear of the parade will be Santa Claus riding in the back of the Baldwin City Fire Department's antique fire truck driven by Fire Chief Allen Craig. After lending a hand with community Christmas tree lighting, Santa will be available for photo opportunities with children while adults can enjoy hot chocolate and cider the BCRC and Lumberyard will provide.