Defending state champions Baldwin wrestlers focus on work as key to success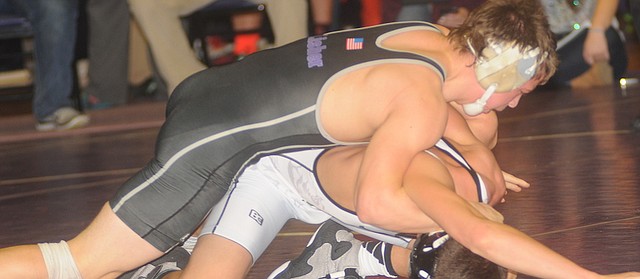 The only expectations the defending 4A state champion Baldwin High School wrestling team has is to work hard everyday and continue to improve throughout the long season.
That's the official line coach Kit Harris is preaching to the team, but fans can be excused for expecting big things from a team that returns five state placers from the championship team, including one individual state champion in junior Thomas Lisher.
Harris understands those five wrestlers listed with the school's other state placers on the wall of the BHS wrestling room naturally want to improve on their finishes at last year's state meet. But it is his view that if they and others on the team stay focused on improvement, success will take care of itself.
"We don't really talk about rankings or last year — last year is over," Harris said. "Right now, everybody is training and trying to have a good season. That's kind of how I addressed it last year, too, just don't get caught up in that stuff.
"I know it's in their minds to be medal winners and state champions, but we focus on the training aspect of it. That's how that happens."
If Joel Katzer is reflective of the team, the Bulldogs are taking the message to heart.
"We're just trying to work as hard as we can and be as good as we can be," the senior said when asked about expectations. "It's a whole new year. My goal is to strive to give it all in practice everyday and not let up when the long season bogs down."
Katzer, one of six team captains with his twin brother, Jake, Levi Green, Ben Morgenstern, Wyatt Slavin and Owen Tuckfield, does admit his personal goal is to improve on his sixth-place finish at state last year. He is making one sacrifice toward that improvement. In a departure from their first three years in high school, he and his twin brother will not play club hockey this year and will be at all of the team's meets, he said.
The schedule before the Bulldogs will give them plenty of opportunities to test themselves before the post-season arrives. Once again the team will start the season at the 16-team Gardner meet that attracts top teams from the surrounding states. The field will consist of 5A and 6A schools with BHS the only 4A team competing.
The team will once again travel Jan. 16 and 17 to Basehor-Linwood for a 32-team tournament that also draws top teams from the state and Midlands. New this year, will be a Feb. 5 and 6 trip to Rose Hill for a two-day tournament. It, too, was added for a purpose.
"It's all 4A schools," Harris said. "There will be 14 4A schools there, 11 that we won't see until state. I don't like to see wrestlers for the first time at state."
The Bulldogs first home action will be a Dec. 11 triangular with Burlington and Prairie View.