Baldwin basketball boys look for ways to win without height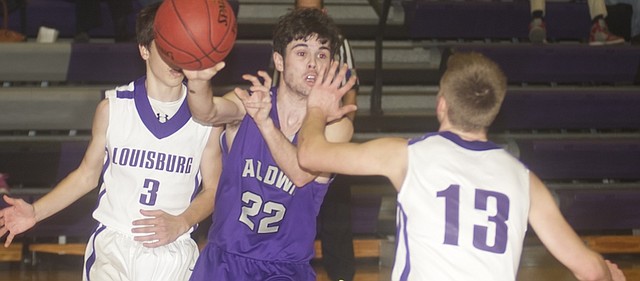 Baldwin High School boys basketball coach Paul Musselman entered his first season as head of the program last year with one post player and no returning starters.
He will have more of the latter this year, but less of the former with the loss to graduation of 6-6 Christian Gaylord, the leading scorer and rebounder. The task before Musselman this year to find a formula for success with returning players who got a lot of experience in last year's two-win season.
Seniors returning this year are Jackson Barth, who also saw minutes on the 2013-2014 Frontier League champion team, Austin Ward, Braxton George and Nick Pattrick. They are all guards or small forwards with Barth, listed at 6-1, the tallest.
"We're kind of a 6 foot and under team," Musselman said.
The strategy is to press full court to create turnovers or make the opposing team uncomfortable, knowing that the Bulldogs will have tough matchups when in a half-court defense, Musselman said.
"We did it all summer long knowing our players most ready for varsity are all guard types," he said. "That will be our identity."
Musselman said he envisioned playing a lot of players to keep his team fresh to apply pressure.
Two sophomores, Kyle Norris and Jayce Dighans, promise to provide length in the future after gaining more seasoning on the junior varsity level, the coach said.
Musselman points to Paola with its three 6-4 or better post players as the Frontier League favorite. Eudora suffered a setback with the loss possibility for the season of Mitchell Ballock, who is being recruited by Kansas University and most other schools in the Midlands, but should still be good. Ottawa should be good despite significant losses from last year's 4A Division I second-place time, but returns 6-4 junior Isaac McCullough, who is also coming off an injury that kept him off the football field this fall.
The boys open Thursday at home against Tonganoixe, a team that also lost most of its starters, Musselman said. The boys play next week in the six-team Bulldog-Wildcat Classic, which has a pool play format for the first two rounds. Baldwin will play at 6:30 p.m. Monday against Louisburg and 6:30 Tuesday against Anderson County.