Vinland Valley store seeks to preserve traditions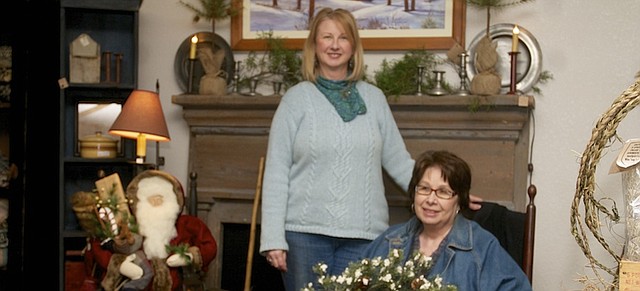 Good Earth Gatherings in the Vinland Valley is the realization of a lifetime dream for Tamara Fairbanks-Ishmael.
"I always wanted to open a shop with my mother," she said. "I grew up in her shop. It was so much fun."
Fairbanks-Ishmael said she acted on her dream when her mother, Twila Fairbanks, retired after years of running antique shops in Lincoln, Neb., and Estes Park, Colo. Additional pieces fell into place when Fairbanks-Ishmael and her husband purchased a home at 858 East 1500 Road overlooking a large pond in the Vinland Valley about midway between Baldwin City and Lawrence and had her retired parents move into a home on the property.
A year ago, the mother and daughter opened Good Earth Gatherings. The shop has two rooms with one being reserved for the classes offered onsite and the other for a retail shop filled with such things as antique cupboards, pie cabinets, rocking chairs and many smaller items from artisanal chocolates to Native American-made flutes.
"We specialize in homespun, down-to-earth items," Fairbanks said of the store's antiques. "These are one-of-a-kind handmade pieces. Once we sell something, it's hard to replace."
Should the shop remain as busy as it was on Small Business Saturday, replacement might be on the agenda in the coming months. That's OK, daughter Fairbanks-Ishmael said, because "then we get to go shopping" and reconnect with the network of suppliers her mother established during her years in the antique business and who are preserving craftsman traditions.
The classes offered at Good Earth Gatherings are similarly inspired.
"I always taught classes in my shops in rug hooking, dying wools — many things," Fairbanks said. "We've lost so many of our traditions. We try to do our part in bringing people back to them."
A sampling of recent or coming classes listed on the store's Website include sacred drum making, writing to discover gratitude and herbs and fire. Fairbanks-Ishmael will teach that last class this month, and it is one of many on herbs and herbs gardening she offers. She's a local authority on the subject, having founded four years ago the Kaw Valley Herbs Study Group, which now meets at Good Earth Gatherings. More information on the classes can be found at the store's Website, GoodEarthGatherings.com.
The store is open from 10 a.m. to 4:30 p.m. the first three Fridays and Saturdays of each month, and holiday shoppers will be greeted with a warm cup of herbal tea. It is a 4.5 mile drive south of Lawrence on East 1500 Road, which is Haskell Avenue in Lawrence. Baldwin City residents will find the store a mile west and half mile south of the Baldwin City pumping station on CR 1055.
Any route to the store will take visitors through the Vinland Valley, and Fairbanks-Ishmael said many customers find the shop while out on a scenic outing. Next spring, the store will offer a new way to enjoy the scenery.
"We'll have the outdoor patio finished then," Fairbanks said. "Customers will be able to relax with an herbal tea and enjoy a wonderful view of the lake."