Douglas County departments show off new public works facility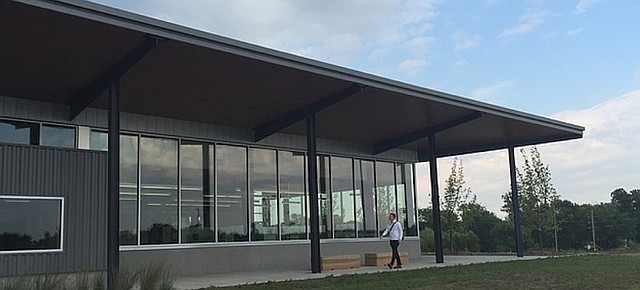 Douglas County's Public Works and Zoning and Codes departments were proudly displaying their new home on East 25th Street during an open house Friday.
The two departments officially relocated from their original 23rd Street location into their new $14.5 million facilities this April, said Douglas County Director of Public Works Keith Browning.
Because construction was still ongoing as the departments moved in, the new buildings weren't ready to be seen by the public at that time, Browning said. Although there is a bit left to finish up, the departments are finally ready to draw back the curtains and show off their new workspace.
"A lot of folks are aware of our previous facilities, and I think they've been very impressed with the new one," he said.
The open house flaunted the departments' main building, operations crews' shops, fleet maintenance buildings and the chemical building. Some of the crown jewels, Browning said, are the colorful rammed earth walls, benches, and partitions around the area.
Rammed earth structures are created by compacting different aggregates — such as gravel, sand silt and clay — together in layers to form a structure. Each compacted layer offers a different earthy color.
Wood from older structures was also brought back to life and fitted to the main building's ceiling.
Walking through the vehicle maintenance building, Browning said the new buildings will allow the departments to better preserve, store and upgrade their existing equipment.
Jeff Draffan came to the open house to see what his tax dollars have gone toward, and he said he was very pleased with the outcome.
"I think I was most impressed with how they repurposed the wood for the ceilings and the rammed earth walls," Draffan said. "That is so Lawrence. It's beautiful. Definitely an upgrade."
And although the new facilities were expensive, Draffan said he considers that money an investment.
"I'm sure (the new buildings) will increase efficiency. That's why you do something like this," he said. "Our taxpayer dollars are being well spent."
Browning said he and those who work in the departments are happy with their new home and he was pleased with the crowd the open house attracted.
"It's been quite a process getting this built," he said. "But we're glad to be in it. It's a beautiful facility and we're very happy with it."