Baldwin HIgh School sees decline in
ACT

test scores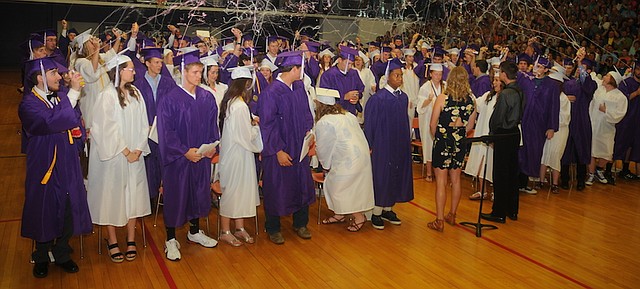 In a reversal of a longtime trend, Baldwin High School Class of 2015 seniors scored below their peers statewide on the ACT college entrance exam.
Baldwin Superintendent Paul Dorathy said the district witnessed a "significant drop" on the ACT. The BHS Class of 2015's composite average score on the test was 21.6 of a possible 36. That score was below the state average of 21.9 but better than the national average of 21.
That compared to the Class of 2014's composite average of 22.
Tracking BHS ACT scores
Class of 2015: 21.6
Class of 2014: 22
Class of 2013: 23.8
Class of 2012: 23.1
Class of 2011: 22.8
Class of 2010: 22.9
Last year's seniors exceeded the state average in math, but failed to do so in reading, English and science, Dorathy said.
Baldwin High School Principal Rob McKim said 75 students of the about 100 seniors in Class of 2015 took the ACT exam. The scores used in last week's announcement represented the final ACT test the students took, which might not be the highest score a student earned, he said.
The Class of 2015's lower composite score did not come as a surprise to him or the school's staff because they tracked the scores of the class since its students first started taking ACT tests as sophomores, McKim said.
There were other signs as well. McKim said the Class of 2015 had a lower preparation rate in advanced classes, such as college algebra, calculus, college biology and college English composition, he said.
McKim noted that every class is different, and just as some excel in football or volleyball, others perform at a higher academic level. One such recent example to pass through Baldwin High School was the Class of 2012, which notched a 23.8 composite score on the ACT.
Nonetheless, the district and high school were disappointed with the just-released ACT results, McKim said.
"We don't think we are a school that will be below the state average," he said.
McKim is confident next year's scores will be better. Just as the Class of 2015's early test results gave him a heads up that its eventual composite score would slip below those of recent classes, those he has seen of current BHS students give him confidence the school will see better composite results in the next few years.
Backing up that early assessment is the larger number of students taking more rigorous courses, including the college credit and advanced placement classes offered at the high school, McKim said. He continues to stress to college-bound students and their parents that enrolling in a rigorous course of study is the No. 1 thing students can do to prepare for the ACT and the challenges of the university classroom, he said.
"It not only what I say, but was ACT says," the BHS principal said.
The district has made other changes that should improve future test scores. Last November, the high school added a voluntary ACT preparation program at the request of the Baldwin school board. McKim said that program, which students attend of one hour a week for 20 weeks, was added too late to benefit last year's senior class but should yield results starting with Class of 2016 seniors. Its developers claim the program can improve students' ACT scores by as many as 3 points. That's significant, McKim said, and could pay off in scholarships or the avoidance of remedial classes at college.
Another benefit of the program was that it provided strategies for students to cope with testing anxieties, McKim said.
The program probably is more appealing to those who weren't taking a heavy load of advance placement or college credit courses, because they might not have time to work it into their schedules, McKim said.
Also new to the district last year was the ACT Aspire test given to eighth-graders, McKim said. The test, which is produced by ACT Inc., predicts the range within which students can be expected to score when they take the actual ACT. The test replaced a less comprehensive one given to eighth-graders before last year. It complements the ACT Plan test given to 10th-graders, which also provides a predictive range of ACT performance, McKim said.
With those tools in place, the high school staff needs to do a better job of sharing that information with students and parents with suggestions of how they can improve ACT scores beyond the range predicted on the Aspire and Plan, McKim said.