New coach to take helm as Baldwin soccer opens Friday at Tongie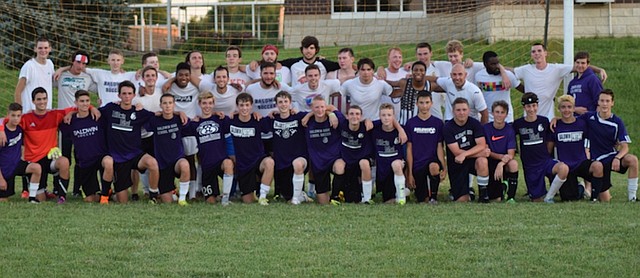 The Baldwin High School soccer team will start the season Friday at Tonganoxie with a new coach at the helm.
Coach Mark Joslyn gave up the reins of the Bulldog program after gilding the team to four-straight 1A-4A state tournament berths, including a trip to the state final four in 2013.
Taking over is new Baldwin high School biology teacher Andrew Ising. This is his first head coaching position, but he has nine years experience as an assistant soccer coach at Junction City and Olathe North high schools, Ising said.
He will be tasked with replacing seven players from last year's state-qualifying team.
"Everyone says it's a young team, but I like what I've seen," he said.
The team's strengths are team spend and technical skills, Ising said. That good because it fits the type of game he likes to play.
"I like to play fast and like to use the whole field," he said. "I'm not married to any one formation. I adapt to the players."
Ising has some sideline experience with his team. He coached a squad of Bulldogs to a 1-2 record at the Sunflower State Games. The team led in all matches, but lost twice when red cards forced the team to play a man down, he said.
Leading the team are five seniors, second-team all-league selection Brendan Owings, Logan Phillips, Austin Jamison, Austin Ward and Austin Langham, Ising said.
The team will open the season with a 7 p.m. match Friday at Tonganoixe. The Chieftains have provided the Bulldogs a tough physical opening match in recent years, and Ising expects the same Friday.
"We'll see how it goes," he said. 'I'd rather play against a very physical team early than technically strong team."
Ising said he didn't know what to expect of the Frontier League. People have shared different opinion about whether Ottawa, which last year advanced to the state 1A-4A final four, can sustain last year's success. In an interesting development, Darren Elpelding has left De Soto, the league's historically most successful team,to take over as head coach at what has been a hapless Eudora program.