City to ask
KDOT

for recommendations on how to enhance safety at Baldwin City crosswalk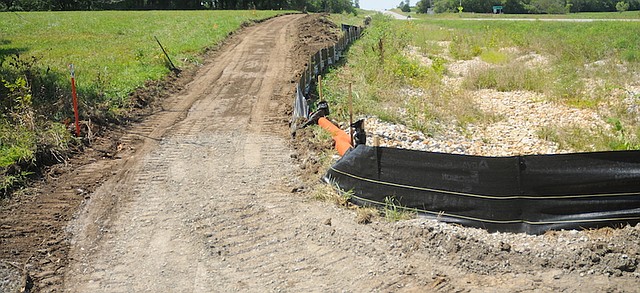 Baldwin City Council members are expressing concern about the safety of school children at a highway crosswalk once the new sidewalk to the Baldwin Elementary School Intermediate Center is completed.
Councilman Dave Simmons, who is on the council's public safety subcommittee, told his fellow council members at their Aug. 17 meeting that the committee had discussed the possibility of greater use by schoolchildren at the crosswalk at U.S. Highway 56 and Eighth Street when the 8-foot sidewalk from 11th Street to BESIC was completed. Work began this month on the sidewalk, which is actually to be an 8-foot-wide mixed-use trail.
The Eighth Street crosswalk is equipped with a push-button activated yellow flashing light. Baldwin City Police Chief Greg Neis said the crosswalk light has not been dependable since he's been with the department. It has been struck by lightning and rebuilt by the contractor who installed it, he said. The light did not activate Monday night or Tuesday afternoon when the button was pushed.
Simmons told the council the committee discussed several possible safety enhancements at the crosswalk, including the possible use of crossing guards, and Councilwoman Christi Darnell said she would welcome a community discussion on placing a crossing guard at the site before and after school. The safety committee, however, made no recommendations and decided to ask the Kansas Department of Transportation what the city could do at the site, Simmons said.
Residents shouldn't look for any changes if KDOT's response is similar to a request for safety enhancements at another U.S. 56 crosswalk.
Two years ago resident Shai Jackson presented a petition to the council, asking the council to support a flashing light at the U.S. 56 and Fourth Street crosswalk that is used by students traveling to and from the junior high and high school campus. The city followed up on that request with new paint on the crosswalk and placement of caution flags on top of crosswalk signs. It also presented KDOT with traffic counts and other information it hoped would convince the transportation agency that further upgrades, such as an overhead flashing light, were justified.
Baldwin City Public Works director Bill Winegar said KDOT's response was that no changes needed to be made at the crosswalk. The city's best chance to make safety improvements at that crosswalk was through the KDOT Corridor Management Program realignment of the Eisenhower/Fourth streets intersection at U.S. 56, Winegar said. The City Council gave city staff authorization last month to seek grant funding for improvements at that site.