Rainbow Experince Preschool offering Baldwin City something new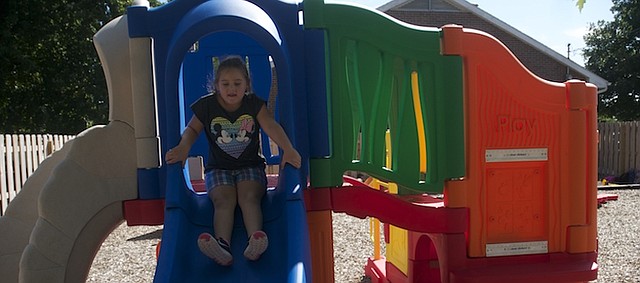 New things happening inside the Rainbow Experience Preschool started with the installation last spring of playground equipment in its back yard.
Chelsea Bradbury, Rainbow director, said when the nonprofit preschool began its year last week in conjunction with the start of Baldwin school district's academic year, it offered an all-day option for the first time ever to better serve single-parent homes or families with two parents working full time. The new all-day option, which is called the Dragon Flies class, is open for children for 2 1/2 to 5 years of age and is offered from 7 a.m. to 6 p.m. Monday through Friday hours.
Bradbury explained that the mornings at Rainbow remain devoted to preschool activities, which start at 9 a.m.; in the afternoon. Rainbow transitions into an "educational daycare," she said.
"We do things like lunch, naps and play time, but we also have educational play where we might repeat the letter they learned in the morning," she said.
Rainbow allows parents to choose how many days per week they want to enroll children in the all-day program, Bradbury said. That flexibility helped make the new all-day option a success, she said.
"It took a little while, but we've had a really good response," she said. "We only have a few all-day slots open."
Although the preschool is near the enrollment limit of 45 students per day established in its state license, there also are some openings left for the beginners class for children ages 2 1/2 to 3 1/2, Bradbury said. She added if there was enough demand, another classroom might be added in the basement of the preschool for a Tuesday-Thursday beginning class.
The all-day option was possible because of the new playground installed last spring behind the preschool at the corner of Baker and Sixth streets with the help of a $15,000 grant from the LiveWell Lawrence Coalition. Bradbury said the state required an outdoor playground if children were to be on the site for more than four hours.
The fenced-in playground with its five pieces of equipment and wood-chip grounds was built on the parking lot of what was once the Cornerstone Baptist Church. The added room the preschool gained with its move a year ago into the old church on the northwest corner of Sixth and Baker streets was also a factor in allowing Rainbow to offer the all-day option, Bradbury said.
Making the move to the new location were longtime lead teachers Sue Demarest and Dana Clem and assistant teacher Linda Sleed. Bradbury, who also doubles as an assistant teacher, said the preschool currently was seeking to hire more two certified teachers.
In addition to the five-day a week option, Rainbow offers a kindergarten preparation Teddy Bear program on Monday, Wednesday and Friday moorings for 4- and 5-year-old students, the Tuesday and Thursday morning beginners' class for students ages 2 1/2 to 3 1/2, and a Monday, Wednesday and Friday morning Busy Bees class for 3- to 4-year-old students.
As she picked up her 5-year-old son, Spencer, at the end of preschool Monday, Kelly Carr said Rainbow remained true to its mission with the new changes.
"I had an older son here for two years, and he loved it," she said. "The teachers are very caring and gentle. It's a very nurturing place."
Another new program will be coming to Rainbow in nine months, Bradbury said. After two successful summer camps in June, Rainbow will offer all-day daycare next summer, she said.