Jayhawk Area Agency on Aging looks to partner with local business for new senior nutrition program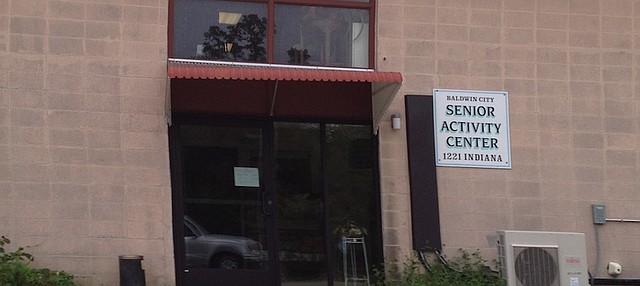 With the congregate meal site in the Baldwin City Senior Center set to close at the end of September, the Jayhawk Area Agency on Aging Inc. is working to find a local business willing to partner with the agency in offering an alternative program.
Jocelyn Lyons, executive director of the Jayhawk Area Agency on Aging, said Douglas County Senior Services had decided to close congregate meal sites in the county as of Oct. 1, including the Baldwin City site at the Baldwin Senior Center. Her agency, which provides the federal funding for meals served at congregate sites and the home-delivered Meals on Wheels, is looking to bring the Choosing Healthy Appetizing Meal Plan Solutions for Seniors, or CHAMPSS, program to Baldwin City as an alternative, she said.
The program has cards that look and operate like ATM debit cards and are loaded with meal credits through the agency, Lyons said. Seniors can secure one meal a day with the cards, which can be loaded with more meals with a call to the agency. Lyons said there is a suggested donation of about $3.25 a meal, but will be issued regardless of a senior's ability to pay.
Although the agency has reached agreement with Lawrence Hy-Vee and two Dillons stores to serve as CHAMPSS sites, it is still working to find sites in Baldwin City and Eudora, Lyons said. The agency was in discussions with a Baldwin City business, which Lyons said she wash't "at liberty" to divulge until an agreement was in place.
"We're hoping it will happen by Oct. 1," she said. "That's what we are pushing for. We'll see. Right now, the ball's in our court."
Lyons said the future Lawrence sites would be in grocery stores with delis and seating, but the agency started the CHAMPSS program in cooperation with restaurants in Oskaloosa and Valley Falls in Jefferson County, one of three counties the Jayhawk Area Agency on Aging serves with Douglas and Shawnee counties. The Oskaloosa site proved popular from the start, she said.
"The day we opened the Oskaloosa pilot site, we expected 15 people at the most," she said. "We had 52. What draws people and what they say they like about the program is that it is supporting local business."
Seniors also like the program's greater variety and flexibility, Lyons said. Unlike congregate sites that only offer the noon meal, seniors can visit CHAMPSS locations at any time and enjoy breakfast, lunch or an evening meal, she said. They also see a greater cross-section of the community, which keeps them more engaged, she said.
Seniors also can pick up meals to take home or have friends and family do so for them, Lyons siad.
Maxine Scott, coordinator of the Baldwin Senior Center, said about five community seniors eat at the congregate meal site daily. That number has been steady in recent years, she said.
Those low numbers were a factor in the switch to the CHAMPSS program, Lyons said.
"In rural areas, we have seen a decline in congregate meals and an increase in CHAMPSS meals," she said.
The Jayhawk Area Agency on Aging will have an orientation on the Lawrence sites at 2 p.m. Tuesday at the Lawrence Public Library, Lyons said. The agency will schedule an orientation in Baldwin City should an agreement be reached to open a site in the community, she said.