Three Baldwin City teens on pointe in the Big Apple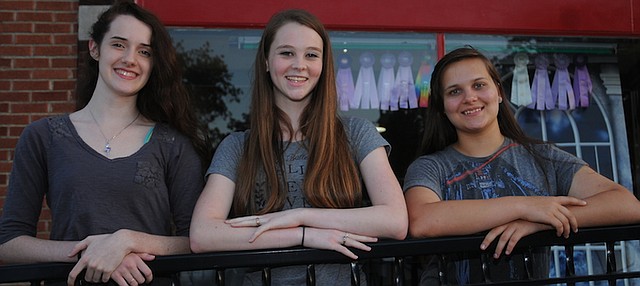 Five weeks spent this summer in New York City opened Emma Niehoff's eyes to what was possible with dance.

Niehoff was one of three Baldwin City teens who spent time this summer in New York City taking part in Joffrey Ballet Summer Intensive programs. Niehoff, Amelia Murray and Rachel Lewis, who all call the Baldwin Academy of Dance and Voice home, successfully auditioned for enrollment in the summer progams, which provided a glimpse into the life of the professional dancers who led their instruction and whom they saw perform on various Manhattan stages.
"It just made it more real," Niehoff said. "You live it for five weeks. You can start to think of the possibility of dance as a career."
It's not as though Niehoff wasn't already serious about dance before the trip. The spring Baldwin High School graduate starts her freshman year this month at Kansas University, majoring in dance. Murray, a sophomore at Baldwin High School, is a member of the Ballet Midwest in Topeka and the Baldwin High School dance team.
Neihoff and Murray were part of a five-week performance track, which ended with a performance of Swan Lake. Lewis attended a shorter three week "intensive" program earlier in the summer. The instruction was much the same in both tracks, the teens said, and demanded concentration and dedication.
"The teachers would tell you your combinations and ask you to go do it," Murray said. "You soon learned to pick up combinations the first time."
One thing that impressed Lewis was that the dedication was shared by a diverse group of young dancers.
"There were dancers from a lot of different countries," she said. "There would be girls from Portugal or somewhere. It was interesting to see dancers from so many places all doing the same thing."
Neihoff and Murray spent their five weeks in an apartment that Murray's mother, Angela Murray, rented from a business associate. Lewis stayed with relatives during her visit.
The three teens said their time Manhattan was a thorough immersion in dance and the arts, which included 9 a.m. to 5 pm. daily classes at a Broadway theater at 35th Street and Eighth Avenue, taking in performances of the American Ballet Theater and New York City Ballet, Broadway shows as well as visiting art museums. All the while they found themselves amid other young dancers attending various summer dance programs and the professional dancers who were employed to teach in them.
"Summer intensive is a big thing," said Angela Murray, who teaches jazz and tap at the Baldwin academy and has an extensive background in dance in Texas and Kansas. "It's considered an important part of the dance experience to do this kind of thing."
If the experience opened Niehoff's mind to the possibility of a career in dance, Lewis found another art form the highlight of her trip.
"Van Gogh is my favorite artist," she said. "To get to see his paintings at the Metropolitan Museum of Art without standing in line with a lot of people was amazing."
Murray said she returned with a new attitude she will share with students at the Baldwin academy.
"I feel like it improved my motivation as well as my technique," she said. "That's what I will bring back here."