Delays in two sports venue projects prompt practice Baldwin Junior High/High school practice reshuffling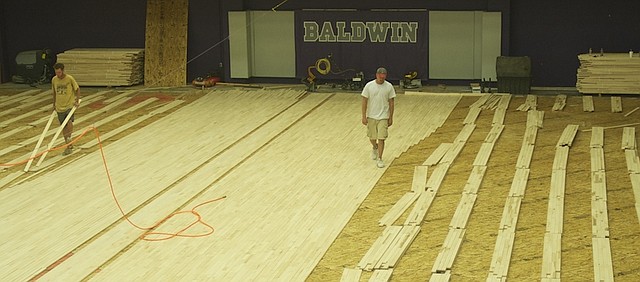 Baldwin Junior High and High school sports teams are reshuffling or improvising practice sites with two summer projects continuing into the school year.
Unexpected problems were encountered with the replacement of the gym floor at Baldwin Junior High School and the resodding of the football practice field, said Baldwin school district activities director Gary Stevanus.
Once of the old gym floor was removed, it was learned the subfloor of the gym wasn't level. That was the cause of the many dead spots in the old floor, he said. Because of delays with the contractor getting to the job and the need to correct the subfloor problem, the gym floor is just now getting installed. After that, it will need to be painted, varnished and given time to dry.
It is hoped the gym will be ready use after Labor Day weekend, Stevanus said, but he is making contingency plans for early season home volleyball matches.
Meanwhile, junior high and high school volleyball teams are practicing in the high school and elementary school gyms, he said.
Despite wet weather throughout the spring and summer, work on the non-varsity game football field west of the high school is complete. Work on the practice field to the south, however, was delayed when it was discovered there was a spring under the tennis courts that drained to the practice field.
That drainage problem has been corrected but there is still some irrigation elements that need to be installed on the field, which still needs to be sodded, Stevanus said. Since the sod will be put down in large rolls, it won't take long for it to establish sufficient roots so that it can be used. However, a week of dry weather so that the work can be done, he said.
Junior high and high school football teams are using "all available green space" near the high school for practice and coaching staffs are working together, Stevanus said.
"They are both great projects," he said. "They just ran into some growing pains. That's not unexpected for projects this these."