Vinland girl finds passion at circus school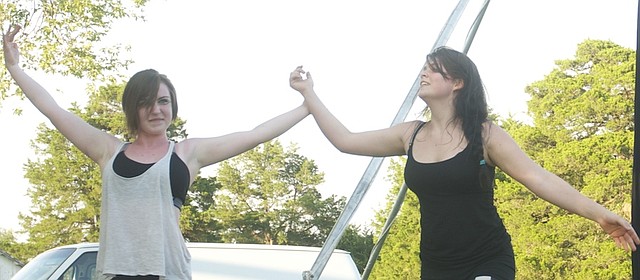 At 15 years of age, Sylvan Mitchell rediscovered the joy of playgrounds.
"Once you go to circus school, you can't walk by a playground again without thinking 'There's a bar I can do something on,'" she said. "It's funny because kids look at me strange, but once I start doing things they accept me being there.
"I have monkey bars in my back yard. It's cool to have a place adults can find their inner child."
Last Thursday at the Vinland Fair talent show, Mitchell impressed her Vinland Valley neighbors with the same skill set that wows children on playgrounds as she and Lawrence teen Avahn Pierson teamed up for a 15-minute aerial silk and trapeze routine. Both learned their skills at The Last Carnival, a circus school in north Lawrence, where Pierson's mother is among the instructors.
Twelve months ago, Mitchell didn't know anything about the aerial silk or trapeze or that there was such a thing as a circus school, much less one so near to her Vinland home. Moreover, she didn't care for sports and was not a particularly active teen.
Mitchell's year of discovery and transformation began on the Internet. She saw a video of aerial silk routines she thought was "cool" and then searched for where she might take classes in the activity.
"When I was younger, I was in gymnastics for three or four years," she said. "I'm not a competitive person, so it wasn't a good fit. I think that's one of the reasons I like circus school so much. It's not competitive. Everybody is so supportive and will help you working on something new and cheer when you do something good.
"When I first started, I lost 20 pounds. I've since gained back 15 pounds in muscles. It gets you in shape fast, and it doesn't feel like a workout because it's fun."
Once she began taking classes, she was hooked, Mitchell said. She's in the Lawrence studio a minimum of three days a week for two-hour sessions but is often there more as she spends "all the time she can" working on her skills.
She will soon be able to practice more at home as her father, Cotter Mitchell, the shop manager for the Kansas University Art Department, is helping her build a trapeze rig in the family's back yard.
Mitchell's dedication and enthusiasm for her newfound passion has impressed her mother, Fadra Mitchell, who also thankful for how it has physically transformed a teen with a history of chronic health problems.
"It's pretty cool when a 15-year-old can be doing an activity and not thinking about anything else," she said. "I think that's really outstanding and something I can support. It's definitely good for her self-confidence as she makes her own way."
Much of that confidence comes from her daughter's live performances and her growing ability to entertain and work audiences, Fadra Mitchell said.
She loves performing, Mitchell said, and has performed as a "scary minotaur character" for shows at the Granda Theater, Abe and Jakes, and other places in Lawrence. It was a desire to add to her repertoire for live performances that prompted Mitchell to start working on the trapeze about four months ago and to recently take up the aerial hoop or lyra, a suspended hula-hoop sized ring.
"I'm working one a few things with the lyra," she said. "In one, you go into a split, fall through the ring and then your thighs are the only thing holding you in place. You look at the crowd and wave. That and ankle hangs. I'm working on ankle hangs a lot."
The Lawrence circus school doesn't teach flying trapeze skills and the leaps from trapeze to trapeze with airborne gymnastics that go with it. It does interest her, however, enough so that's she's aware the closest classes for flying trapeze are in St. Louis.
Despite her passion for silks and trapeze, Mitchell doesn't plan to run off to join the circus.
"Honestly, I don't see myself having a career in this," she said. "I love entertaining people. I would love to do this on the side and continue throughout my life, doing stuff at festivals, music shows, special events and weddings."