Face to Face: Silva Beach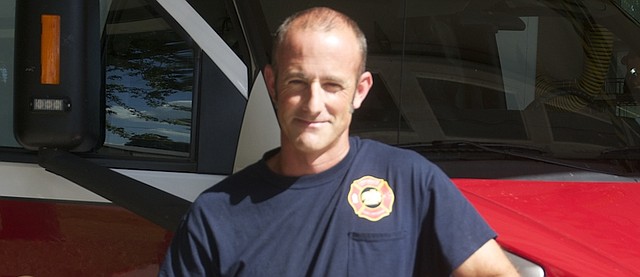 Silva Beach
Born: Baldwin City
Family: Wife, Sarah, and children Simon, Ian and Lily.
Education: Beach graduated from Baldwin High School. He went to Kansas University and took fire training classes at Johnson County Community College.
Hobbies: "I have a few," Beach says, listing hare scramble racing, which he says is a form of off-road motorcycle racing, hiking, biking and backpacking. He also brews beers and makes wine and enjoys home repair.
:Career Beach works for Lawrence-Douglas County Fire and Rescue. Although mostly stationed in Lawrence, he is rotated through the Baldwin City station about five times a year. It's a posting he likes because it's only five minutes from his home north of Baldwin City.
Digging deeper: Beach said what he most likes about his job is the variety. "There's always something different. You never know what the day is going to bring. You're not tied down doing the same thing every day."
The down side is lack of sleep, Beach said. And the worst time of year for sleep deprivation is approaching with the return of Kansas University students to Lawrence. They will keep him and his co-workers at Lawrence-Douglas County Fire and Rescue busy with their return as they get in accidents on unfamiliar streets and enjoy free time late into the night until classes start, he said.