Baldwin City Administrator Chris Lowe leaving to take Colorado job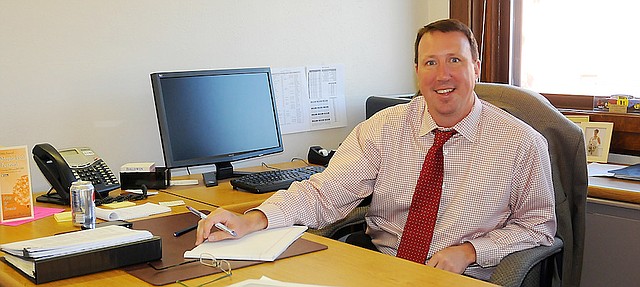 Baldwin City Administrator Chris Lowe announced today he was resigning his position to take a similar job in Colorado.
Lowe, who was hired as Baldwin City administrator in July 2011, has accepted a position as town manager of Monument, Colo., a city of about 5,800 north of Colorado Springs.
"I'm grateful for the opportunity to work with mayors Ken Wagner and Marilyn Pearse," he said. "It was a pleasure to serve with two such outstanding leaders. The Baldwin City community has been wonderful to our family and holds a special place in our hearts. We will be back to visit often.
"However, the opportunity to serve a Board of Trustees that is progressive and committed to growth like the one in Monument was very attractive to me professionally."
Lowe said he would not rush out the door as there were a couple of important ongoing city projects he wanted to wrap up and city vacancies to fill. His last official day is scheduled for Sept. 21.
Pearse said the city would look to hire a local recruiter for help in finding Lowe's replacement. It would be difficult to find someone as qualified as Lowe, who has a law degree and well as a master's in public administration, she said.
"It's a huge loss for the city," she said. "It's a hole that will be very difficult to fill."
Pearse acknowledged that Lowe had his detractors, but said that was often the case with strong city administrators.
"There are those people who don't like a man with him own mind, who can't be manipulated," she said. "People tell me Chris had an agenda. I tell them they are absolutely right. His agenda from day one was what was best for Baldwin."
Baldwin City Councilwoman Christie Darnell said Lowe accomplished much in his four years as city administrator and much improved the city's finances.
The city has had three bond rating upgrades during Lowe's four years, which benefitted taxpayers as the city refinanced all its existing debt to take advantage of better interest rates. In another reform, the city now employs an independent underwriter when issuing bonds.
City projects undertaken during Lowe's four years, often in partnership with other entities, include the reconstruction of North Sixth Street, the expansion of the Baldwin City Public Library, the building of a new clubhouse at the municipal golf course, the addition of restrooms at three city parks and upgrades to the city's power and sewer plants.
Also noteworthy during his tenure was the renegotiation and extension of the city's agreement to purchase wholesale water from the city of Lawrence, which reduced Baldwin City's wholesale rate by 25 percent and tied any future rate increases to the rate Lawrence charges its customers.
The city is currently renegotiating its wholesale water contract with the city of Wellsville, and that is one of the projects he wants to see through before leaving, Lowe said.
With the election of two new members in April, there has been a complete turnover on the Baldwin City Council since Lowe was hired. Signs of tension surfaced at two recent council meetings regarding an annexation of property on the city's northeast shoulder. The property owners withdrew the voluntary annexation request last month after the second and final reading of an ordinance enacting the measure was tabled at the request two newly elected council members, Steve Bauer and David Simmons. The two council members said information about the city's plan to extend that line to the business park, currently served by septic systems, should have been shared before the first reading so that the public could be informed of that news.
During council discussion of the annexation request's withdrawal, Pearse said council members need to develop trust in city staff and their fellow members.
Lowe's resignation announcement comes when there are a number of vacancies in City Hall. Community development director Collin Bielser, who was essentially assistant city administrator, resigned last month to take a position as city administrator in Fairbury, Neb. The position of city clerk has been open since late June.
Pearse said there were some on the council who would like to keep those positions open so that the city administrator could have input in the hirings, but she said they needed to be filled as soon as possible. The city is now advertising for the positions, she said.
Lowe came to Baldwin City after serving as assistant city administrator for Warrensburg, Mo.. He is a native of Pleasant Grove and received his undergraduate degree from Kansas University. He earned a law degree from Marquette University and a master's in public administrator from Bowie State University.
Lowe's wife, Dara, is a physician who practices in Baldwin City. Lowe said she and their three sons would remain in Baldwin City until the end of the year before joining him in Colorado.