Baldwin district new hires launch careers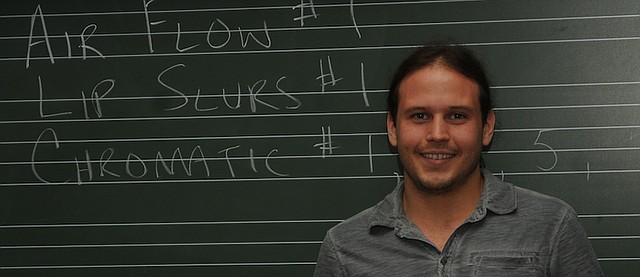 For Baldwin school district's nine newly hired teachers, the school year started Monday.
The district had its two-day new teacher orientation Monday and Tuesday for seven new district faculty members and two new teachers with the East Central Kansas Cooperative of Education. The new hires first received a rundown on policies from Superintendent Paul Dorathy and then from building principals.
For the four new faculty members, the orientation marked the start of their teaching careers. The orientation was the realization of a
goal he set years ago, said Matt Moore,
"I first knew I wanted to be a teacher my senior year in high school," he said.
Moore, who will teach music at the Baldwin Elementary School Intermediate Center before spending the last three hours of his day at the high school giving guitar lessons and teaching a seminar, lives in Perry. He graduated from Kansas University this spring and was in
the school's choir, jazz band and a one-year member of the marching band.
Although many view the Baldwin school district as small, it doesn't seem that way to Moore, who went to Jeff County North High School in Winchester. It was a smaller school, and there were fewer musical options for students. The facilities were not on a par with what is available in the Baldwin district, he said.
"We didn't have an auditorium," he said. "The Performing Arts Center is fantastic. I went in and looked around when I had some free time."
As he looked forward to school starting Aug. 18, Moore said he was most excited about meeting his students. That excitement is shared with the other three novice teachers.
"I'm really anxious to meet the kids and start working with them,"
said Kelly Reimer, who will teach physical education at the intermediate center. It's Reimer's first teaching position but not her first classroom job. A graduate of Sterling College, Reimer has been a paraprofessional in the Eudora school district for the past five years.
"I was nice to get a position nearby and start putting to use the degree I'm paying for," she said.
Reimer was also the softball coach at Eudora. She's open to coaching again, but she decided to focus on teaching her first year.
Davin Hance displayed his interest in sports on the first day of orientation with the St. Louis Cardinals T-shirt he wore. He has an interest in coaching in the future, but like Reimer he, too, would concentrate on teaching in the first year of his career. Hance will teach physical education at Baldwin Elementary School Primary Center. A native of Joplin, Mo., and recent graduate of Pittsburg State University, he said he first got the teaching bug while a sophomore in college.
"I went to college not knowing what I was going to do," he said. "I took a physical ed class my sophomore year and loved it."
She, too, decided on an education career as a college sophomore, said Paige Mastorakos, who will teach third grade at the intermediate center. She's no stranger to the school, having completed her practice teaching at the school in the fall of 2014.
"I've got a lot to do before school starts, but I'm very happy to come back," she said.
A native for St. Louis, Mo., Mastorakos is thankful to have a job near Lawrence because it will allow her to follow her passion.
"One of the reasons I went to KU was basketball," she said. "Basketball is a huge deal for me."
Some school districts are struggling to fill open positions, said Superintendent Paul Dorathy. He saw a recent announcement of 400 open positions in the state less than a month before school starts.
Baldwin hasn't experienced that problem. The district's new teachers include two new music teachers, who can be very hard to find, he said. The district has the advantage of its location near Lawrence and the Kansas City metropolitan area and its reputation of having quality students, he said.
Not only was the school district able to fill its teaching vacancies, but it did so with quality people, Dorathy said.
"I think we were able to hire some very good people this year," he said.
The first-year teachers in the Baldwin district with past experience elsewhere are Erin Buffum (BJHS/BHS), Alison Adams (BESIC), and Andrew Ising (BHS).