Vinland Fair returns for 108th run Thursday, Friday, Saturday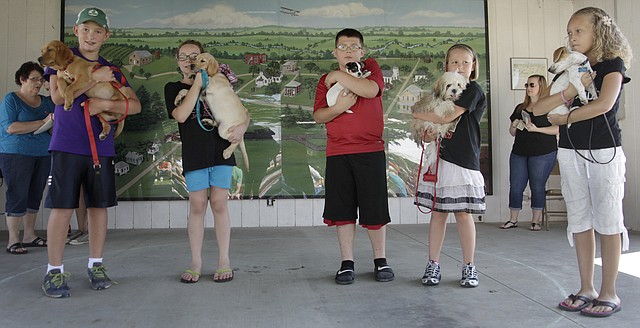 There are four structures in the hamlet of Vinland on the National Register of Historic Places. If there such a thing as a register of historic events, the annual Vinland Community Fair would surely be on the list, too.
Vinland Fair schedule
Thursday:
All day — Build a scarecrow, quilt show, apron show
2 p.m. —Old-time farm skills contest
2 p.m. —Horseshoe pitching training for all ages
6 p.m. — Talent show
7 p.m. — Baldwin High School band
7 p.m. — Rabbit show
7:15 p.m. — Flower show judging
7:30 p.m. — Alfred Packer Memorial String Band
Friday
10 a.m.— Stock bicycle races
Noon — Races, sack races, tug of war
7 p.m. — Antique tractor pull
7:30 p.m. — Rural Harmony Band
Saturday
9 am. — Horseshoe pitching.
10 a.m. — Registration for pet parade and box turtle race
11 a.m. — Box turtle race and pet parade
1 to 4 p.m. — Livestock judging
2 p.m. — Kids' pedal tractor pull weigh in
2:30 p.m.: Kids' pedal tractor pull
3 p.m. — Renegade pullers lawnmower pull
3 p.m. — Watermelon spitting contest registration
3:30 p.m. Watermelon spitting contest
5 p.m. — Homemade ice cream freezing begins
7:30 p.m. — Homemade ice cream making contest, judging and serving
7:30 p.m. — Blue Stem Band
The 108th Vinland Community Fair starts at 4 p.m. Thursday and continues through Saturday at the fairgrounds just off County Road 460 in Vinland. Like the four local historic buildings, which includes the Vinland Fairgrounds Exhibition Hall, the fair preserves the heritage of the rural community. The fair organizers' goal is to stay true to the character of the event the Grange organization started in 1907, said Tamera Hagerman, who serves on the Vinland Community Fair Board with her husband, Rex.
"The fair hasn't changed much," she said. "We don't have a carnival that parents can send kids off to so they can be entertained. It's a participation fair. Kids and people make their own fun."
Those attending for the first time may be surprised to find there is no carnival or commercial booths, which are mainstays of contemporary county fairs. They will also find free admission to the fairgrounds and all its venues.
The fair's Grange founders probably would be shocked by Friday evening's tractor pull or Saturday's lawnmower pull, but there is much they would recognize. Old-time games, many designed for children, are sprinkled throughout the fair's three-day schedule. Those children's games include sack races and tug of wars slated for noon Friday, and a watermelon spitting contest and box turtle races on tap for Saturday.
"There's a lot of family-oriented events," said Susan Johnson, who serves on the Vinland Fair Board with her husband, John. "Kids are safe here. They can run and play or take part in the pedal tractor pull, the tug of war, the box turtle races or any of the games."
Adults can participate, too, through such activities such as Thursday's scarecrow building contest, flower show, the 6 p.m. talent show or Saturday's horseshoe pitching contest. Through the years, the talent show has featured many local singers and musicians, but also such offbeat acts as a chicken hypnotist, human contortionist and skits.
Another draw is the food, Johnson said. The Vinland Valley 4-H Club will manage the fair's concession stand on Thursday, offering pork burgers and chili dogs. Vinland Fair volunteers will take over the stand for the final two nights with Friday's menu featuring the chicken and noodle dinners the Vinland F.C.E. annually prepares for the event.
Delina MIller, who coordinates the concession stand for the Vinland Valley 4-H Club, said the Vinland Fair has a much different flavor than the just-completed Douglas County Fair.
"It's a laid-back, family event," she said. "Working the concession stand, you get to catch up with people in the community you haven't seen lately. The entertainment is always good. I love listening to the band play when I'm working concessions.
"For Vinland Valley 4-H, this is our fair. Our members really get to promote 4-H. They meet other kids and get to show them what they do in 4-H and really give back to the community, in general."
For many Vinland Valley families, the fair serves as time for family reunions with adult children and grandchildren returning for the event, Hagerman said.
That and the emphasis on old-fashioned entertainment give a "Mayberry" quality to the fair, Hagerman said. For example, people look forward to the homemade pies people bake for the concession stand, she said.
"For me, it's the carmel apple crunch pie Twila Brown makes," she said. "It's awesome. Alice Rockhold makes a wonderful gooseberry pie. It makes me laugh because there's this one gentleman who always wants some and gets upset if we don't have any. He doesn't understand why we run out because he says, 'Nobody likes gooseberry pie.'"