Coach confident wins on way for Baldwin High School soccer team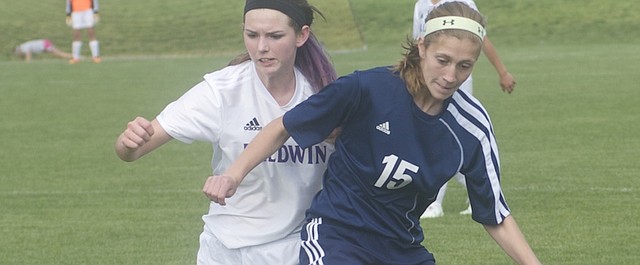 Baldwin High School girls soccer Erryn Kindle saw enough good things during three tough losses in the last week to have confidence his team is ready to break out.
"No more losses," Kindle told his team after its comeback attempt fell short, 3-2, Tuesday at home against De Soto.
Part of Kindle's confident message was based on the schedule. The Bulldogs went 0-3 the past week against a tough schedule of Topeka-Hayden at home Thursday, Emporia on the road Friday and De Soto. But the Bulldogs were competitive all the games, even in the 4-0 loss to Hayden, which was tied 0-0 at half and remained scoreless when goalie Riley Rifford blocked a Wildcat penalty kick about 10 minutes into the second half. Unfortunately for the Bulldogs, Hayden soon followed with a free-goal and would get three additional goals with a breeze to its back.
Baldwin then fell Friday, 1-0, in overtime at Emporia.
"It was back and forth," Kindle said. "In overtime, they were able to get a corner kick and kind of pin us there."
De Soto scored early Tuesday and made the goal hold up for a 1-0 lead at half. The Wildcats got on the scoreboard again early in the second half before the Bulldogs stormed back to tie the match, 2-2, behind goals from senior Erica Petry and sophomore Kinsey Jackson.
De Soto's winning goal came off a series to Baldwin miscues, Kindle said.
His team remains up and down, capable of playing very good soccer for stretches, such as the comeback against De Soto, and suffering through flat spells, Kindle said.
"It was a game of very highs and very low lows," he said. "As a coach, I'm trying to interpret when we're playing well and when we're not. When we're on, we're a great team. We can play with the best. It's just getting there consistently and playing that way for 80 minutes.
"We're right there."
Baldwin will try to make good on Kindle's confidence with a match Thursday at Lawrence against Bishop Seabury Academy, and home matches Friday against Tonganoxie and Tuesday against Marantha Academy. All matches start at 4 p.m.