Lawrence Habitat for Humanity plans to build home in Baldwin City next year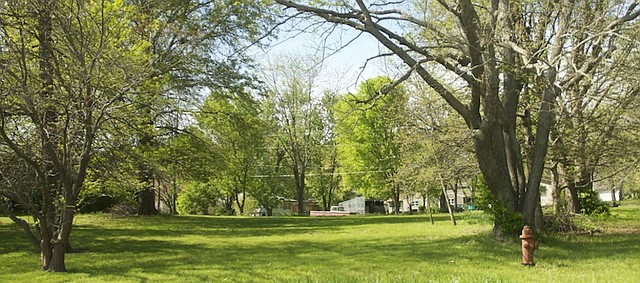 Lawrence Habitat for Humanity has a lot and much of the needed money, but now needs a family before starting its second home in Baldwin City.
That effort to find the right family for the three-bedroom, 1 1/2 bathroom, 1,250-square-foot home Lawrence Habitat plans for Baldwin City will start with a public meeting at 6:30 p.m. May 13 at the Baldwin City Public Library, said John Harvey, Lawrence Habitat for Humanity director of resource development.
The organization recently received $25,000 from a Baldwin City donor to be used to construct a home in the community. That gift complemented a donation eight years ago of a vacant lot at 11th and Fremont to Habitat. Harvey said Lawrence Habitat wanted to do something at the lot sooner to follow up on the completion of the first Habitat home in Baldwin City in 2002, but the recession put the plans on hold.
"It's a pretty little corner lot, just sitting there since 2007," he said. "It's been our director's goal to figure out a way to come back to Baldwin. The cash donation was a pretty significant jump start."
About $75,000 is needed to build a Habitat home, Harvey said. Lawrence Habitat can provide about $25,000, and the Baldwin City Community will be asked to match the $25,000 donation, he said.
When Lawrence Habitat is ready to break ground, the city will be asked to forego all development fees for the home, Harvey said. Although he said he couldn't speak for the council, Baldwin City Administrator Chris Lowe said he would recommend that request be granted.
Having talked to a number of Baldwin City churches and organizations, he is confident the money will be raised, Harvey said. Habitat is now ready to have people and organizations write checks and commit to volunteer to help with the home's construction, he said. Before making those commitments, many people want to know who will be living in the home, and that's the reason for the May 13 meeting, Harvey said.
Community stakeholders and potential families are invited to the meeting to learn who qualifies, the selection process and what is expected of the family chosen.
"We hope to get the word out, and attract a good number of applicants," Harvey said. "We have a ways to go, but we would like to have a good solid family in place."
Lawrence Habitat's selection committee would be "highly involved" in the selection of the family, but it will be looking for help from a Baldwin City steering committee. Harvey said he hoped volunteers for that committee could also be identified at the May meeting. The local steering committee will help raise the remaining dollars needed, help guide the selected family through Habitat's process, which includes 30 hours of classroom training, and recruit volunteers to build the home, he said.
The selected family's lengthy education and preparation process is another reason Lawrence Habitat is anxious to identify the future homeowners, Harvey said. The timeline now is to have the family selected, steering committee in place and remaining money raised by the end of summer so that ground could be broken on the new home in March 2016.