Kansas City Connection: Char Bar, Sleater-Kinney, Zubaz and giant Lego sculptures
"Good Food," reads a sign behind the bar at Westport's Char Bar. Talk about an understatement.
Here's a tweet from competitive barbecue judge and competitor Clayton Snodgrass. "Just had the burnt ends at @CharBarKC. Possibly the best bite of #bbq I've ever tasted."
I'm all for Midwestern humility, but I'd have to side with Snodgrass on this one. The burnt ends at Char Bar are smoked for 24 hours, leaving a deep-smoked flavor and a juicy, tender, flavorful bite. I'm less enthralled by the pulled pork, but the excellent thick-sliced brisket and flavorful sausage give a meat-lover plenty of options.
Sides like the cheese-stuffed hush puppies (served in a jalapeno jam) the decadent Velvet Elvis dessert, or one of the Char Bar's vegetarian items round out the menu. And, of course, there are dozens of tap and bottled beers.
Char Bar is located at 4050 Pennsylvania Ave. in the former Beaumont Club space. Last month, it opened up a patio with a fire pit, yard games and outdoor seating, a welcome addition to a neighborhood that has been deprived of beach volleyball ever since the Beaumont's demise.
Char Bar is open seven days a week with a special brunch menu on weekends from 10 a.m. to 3 p.m.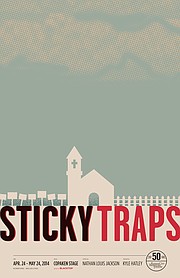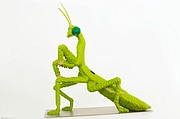 'Sticky Traps'
From now through May 24, the Kansas City Repertory Theater is presenting "Sticky Traps," a play by its playwright-in-residence Nathan Louis Jackson.
"Sticky Traps" is set near Kansas City and chronicles a mother's campaign to defend her homosexual son's honor after his funeral is protested by a religious group. Kyle Hatley, who starred in the Rep's recent production of "An Iliad," takes on directing duties for this production. Given the parties involved and the weight of the subject matter, this should be a moving performance.
"Sticky Traps" is playing the Rep's downtown Copaken Stage at 13th and Walnut. Tickets run from $20 to $49 at kcrep.org.
Concerts
You might know her best as the female lead of "Portlandia," but Carrie Brownstein is also one of the three women in Sleater-Kinney, a rock band from the Pacific Northwest that formed in 1994 and is currently on tour behind a new album, "No Cities To Love."
Sleater-Kinney will be performing at the Uptown Theater at 8 p.m. April 26. Tickets start at $30 at ticketmaster.com.
Jazz buffs will want to check out the culminating concert of The Kansas City-Montreal Music Exchange, a week-long symposium of Kansas City and Montreal composers organized by KC's Black House Collective.
The concert will be held on Thursday at the Bolender Center next to Union Station. The program includes six short works by composers from both cities.
Zubazpalooza
The Kansas City Royals open a homestand this Thursday with four games against division rival Detroit, and with the teams at or near the top of the MLB standings, it should be a great series.
As fired up as the Royals have been playing (arguably too fired up at times), nothing excites a local sports fan/culture buff like a promotional giveaway involving Zubaz (the gaudy, camo-ish pants that look a like neon tiger print pattern).
"Zubazpalooza" will be the Friday, May 1, game, and special ticket packages start at $25 at royals.mlb.com.
Powell Gardens
When I go shopping for plants, I usually visit Sunshine Flowers just north of 47th and Rainbow Blvd., which also includes a fresh fruit market, or one of the area's expansive Family Tree Nursery locations.
But the plant and gardening enthusiasts I know all swear by the Powell Gardens annual spring plant sale, which includes several hundred species of perennials and annuals selected by their horticultural staff. In addition to the sale, Powell Gardens will also be opening a special Lego nature exhibit, featuring 27 sculptures in 14 scenes made from over 300,000 Lego bricks by artist Sean Kenney. Some of the creations include a bald eagle, a giant monarch butterfly and birds taking on squirrels at a bird feeder
The sale runs from 9 a.m. to 5 p.m. May 2 and 3, with regular admission rates applying. The Lego exhibit opens May 2 and runs through Sept. 7. Powell Gardens is located about one hour east of Lawrence off Highway 50 in Kingsville, Mo.
— Lucas Wetzel is a writer and editor from Kansas City, Mo. Know of an upcoming event in Kansas City you'd like to see featured in Kansas City Connection? Email us about it at kcconnection@ljworld.com.