Girls on the Run helps Baldwin City students get fit, improve self-esteem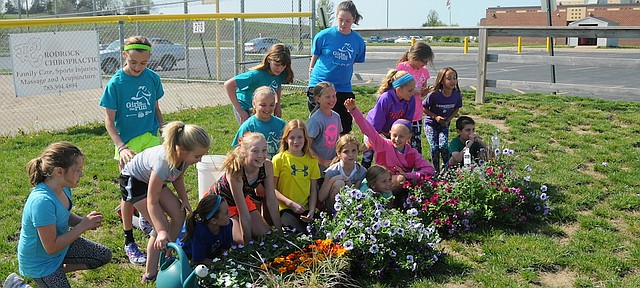 Fourth-grader Maddie Anderson said she's improved two things from participating in the Girls on the Run program.
"I usually run about a mile a day because I'm not the best, but I try," she said. "When I first started running, I could run about a half mile. I feel better and stronger."
Girls on the run is a national nonprofit organization that encourages pre-teen girls to develop self-esteem and healthy lifestyles through running, said Michelle Patterson, a coach with the Baldwin City club. The program is offered for 12 weeks in the fall and spring. Seventeen third-, fourth- and fifth-grade students are participating in the after-school program this spring on Tuesdays and Thursdays at the Bull Pup Drive ballparks.
As its name suggests, there is a lot of running involved with the girls running as much as 3 miles during afternoon meetings. The spring session will conclude with a 5K race May 17 in Overland Park.
"They work hard, and we send them home ready to go to bed," Patterson said. "Some of the girls are returning from last fall or spring, and some are new. It depends on schedules."
But the girls also play games and do crafts during the sessions. More importantly, time is set aside for group circle discussions on problem-solving and life-skills lessons.
It was in such a circle that Anderson said she improved her self-control while being teased.
"We talk about bullying, peer-pressure and how we can deal with them through good responses," she said. "It worked for me."
Third-grader Jacklyn Markway, who said she runs 2 to 3 miles when at the ballparks, said she learned a method to stay positive through the group discussions.
"They told us there were two kinds of thoughts — negative and positive thoughts," she said. "They said when you had a bad thought to pretend to pick a negative bug off your face and put a positive bug back. I've picked off negative bugs."
Each 12-week session also has a community project day. This spring's project day was last Thursday when the girls planted flowers in the large planters at the ballparks. The project was the idea of BESIC library aide and Girls on the Run coach Jill Boyle, who noticed nearly all of last year's plants were dead.
"I just called the (Baldwin City) recreation commission, saying we'd plant flowers if they provided them," she said. "They gave them to us, and we have all this free labor."