Intersection of
CR

1055 and North 600 Road to be closed today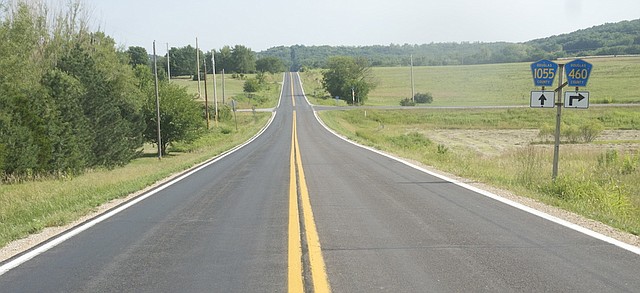 Wednesday will be barricade moving day as a season of upgrades and safety improvements on CR 1055 north of Baldwin City shifts to a new location.
Dooglas County is undertaking a three-phased improvement to 1055 this construction season. The work started in early March with the removal of trees along the roadway near the road's intersection with North 500 Road and the removal of older culverts for longer replacements between North 400 Road and North 500 Road.
Douglas County Public Works Director Keith Browning said that work was now done. Therefore, barricades will be moved to close the intersection of North 600 Road and 1055 so that work can start on the installation of paved shoulders of 1055 at the intersection, he said.
The intersection work is to be completed April 17, Browning said. At that time, 1055 will be open from the intersection south of Baldwin City. The road will be closed until April 24 north of the intersection to Vinland as longer culverts are installed on that section of 1055, Browning said.
When that work is finished, 1055 will be barricade-free until sometime in early June when work will start on replaceing the box culvert just north of the North 500 Road intersection with a bridge. A contractor hasn't been selected yet for that job or the final upgrade planned for 1055, which is the asphalt repaving of the road from Baldwin City to Vinland.
The bridge construction will necessitate closing 1055 from North 500 Road to North 600 Road from early June to mid-October, and other sections of the road will be closed for a shorter period for the repaving. Browning said the repaving schedules would be established when a contractor for the work was selected.