Baldwin school board makes needed budget adjustment for next school year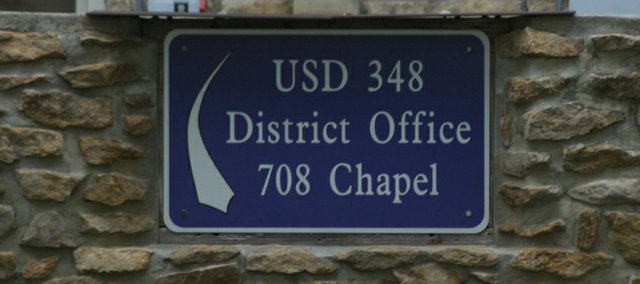 On Monday, the Baldwin school board completed adjustments needed for the district to balance its 2015-2016 budget with the state's new block grant school funding legislation.
2015-2016 student fees
Meals
Breakfast, $1.65
Pre-K, elementary school lunch, $2.50
Junior high and high school lunch, $2.75
Snack milk fee, $40
Textbooks ($10 discount if paid by Aug. 1)
Kindergarten, $50
Elementary school, $69
Junior high, $80
High school, $100
All-day kindergarten
Full pay, $260
Reduced lunch, $130
Free lunch, $65
Band instrument rental fee, $40
User fee:
Full pay, $50
Reduced lunch, $30
Free lunch, $10
Transportation fee: $125
BHS iPad take-home fee: $50
Gov. Sam Brownback signed the block grant K-12 funding legislation into law last month, which will freeze state funding to school districts at 2014-2015 fiscal year levels. The block grants are meant to be a two-year bridge as the Legislature works to rewrite the 24-year-old school funding formula the block grants replaced.
Superintendent Paul Dorathy said while state aid would remain frozen at this year's level under the legislation, the district's expenses were expected to increase $220,000 in 2015-2016 from such things as salary increases, health insurance premium hikes, utilities and its assessment to the special education Educational Kansas Cooperative in Education.
Among the adjustments the board approved was the adoption of the 2015-2016 fee schedule, which will provide the district an additional $33,600 in revenue. That fee schedule included an increase in the cost for bus service to those students living within 2.5 miles of their attendance centers from $100 to $125 a year. In accordance to state statute, students eligible to receive free or reduced-priced lunches will not be charged for in-town ridership (for a full list of 2015-2016 fees, see graphic).
A month ago, the board discussed increasing that fee to $300 a year, but agreed to survey those families living in town paying the fee to learn if enough would retain the service at the higher rate to make the increase worthwhile. With the decision to go with the much lower $25 hike, no survey was needed.
The board agreed to skip the $8,000 summer painting program for this year and to do without a summer mowing position.
Retirements and resignations will save the district $48,472, and taking utilities and insurance for Vinland Elementary off the books saves another $20,000. Reduction in classified staff will save $48,400, and $11,000 would be trimmed with a reduction in certified positions. An agreement to join an insurance pool with other districts saved the district $35,000 in premium costs for property and liability insurance.
The board decided not to eliminate the high school student activities of pom squad, golf, spring play and debate with low participation rates, which would have saved another $10,000. It was agreed, however, the district policy of canceling seasons or events if there weren't enough numbers would be enforced. This spring, high school golf was canceled when only five students were interested in going out for the sport.
Although the board has dealt with the consequences of the state's school finance changes the past two months, he has received queries from those wondering how the district escaped the more severe current year budget woes of its neighbors, Dorathy said. The answer was the district was fortunate to have carryover local option budget funds from delinquent taxes and other sources it had no budgetary authority to spend in past years, he said. When the state block grant legislation rescinded promised state aid to this year's LOB, it left a spending authorization gap the carryover funds were legally able to "slide into," he said.