Baldwin City, township firefighters battle prop blazes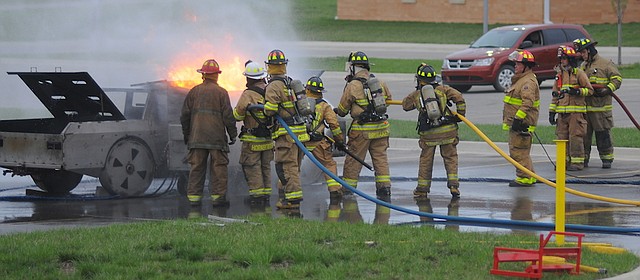 Baldwin City volunteer firefighter Donnie Thomas said a training exercise Wednesday on fighting a dumpster fire had an occupational benefit for him.
"We learned the proper way to open the lid on top — the safe way to do it," he said. "I work for Olathe Trash, so I've dealt with them before. You don't know what's in them — a propane bottle or what. People can put stupid things in there.
"It (the dumpster) is a prop. That trailer has some great props."
The trailer Thomas referenced was from the Kansas University Fire and Rescue Training Institute. Delivered on Wednesday to the Baldwin Elementary School Primary Center parking lot, volunteer firefighters from the Baldwin City Fire Department and Palmyra and Willow Springs township departments trained on techniques for fighting fires in vehicles, dumpsters, barbecue grills, propane tanks and electrical meter boxes. Saved until last was a wall of piping that didn't share the other props' resemblance to common fire hazards but did deliver an impressive amount of flames.
Baldwin City Fire Chief Allen Craig said three KU Fire and Rescue employees controlled the fires in those props, using an electrically ignited propane system similar to that of outdoor grills.
At one time, the BCFD and other departments trained by burning down derelict houses, Craig said. That's frowned upon in more environmentally conscious times, but KU Fire and Rescue have stepped in to provide training opportunities. In addition to the prop trailer, KU Fire and Rescue has an interior training trailer in which firefighters learn rescue techniques, requiring them to crawl through flame-ridden space. That trailer will make a visit in the near future to Baldwin City, he said.
The training evenings aren't just a simple matter of sparking the props and putting them out, Craig said. Firefighters on Wednesday had to unload and reload the trailer, including the four-thousand pound prop car, and roll out and then reload fire hoses.
Only having been on the BCFD for about half a year, she learned a lot from the dumpster exercise, Ashley Kroeker said.
"I learned to pull the hose and where to aim the water to best put out a dumpster fire," she said. "It's a lot of fun."
Kroeker and Chase Coburn, who joined the BCFD about five months ago, said the exercise was very much about team building as volunteers practiced as a unit and with the two township departments.
"We rotate through the whole thing," he said. "Everybody gets to do everything — pull line, run the hose and be in command."
Asked which was his favorite, Coburn said "the entire thing is fun."
"It's a lot of work but fun," he said. "Having all three departments out here getting on the same page is great."