Tuesday evening farmers' market to bring more locally grown food options to Baldwin City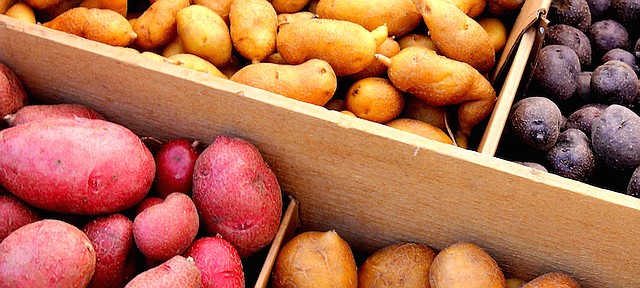 It's the time of year to plant seeds with the hope of future return, and that's what the organizers of Baldwin City's newest farmers' market are doing.
"We're hoping this will explode for Baldwin," Rachel Renyer said. "There's so much interest in getting homegrown food. There's not anything coming out of the ground right now, but there is a lot of interest from producers."
Renyer is working with local chiropractor Jeremy Rodrock to organize a weekly farmers' market at the old restaurant on the southeast corner of the U.S. Highway 56/Sixth Street intersection that is now home to the kitchen for his prepared-meal business, Optimal Living. The market is to be open from 5 to 8 p.m. Tuesdays through October.
"It will be a three-season market — spring, summer and fall," Rodrock said. "We really want to promote local farmers and give them another outlet to sell healthy, locally produced food."
The market was introduced April 14 with three vendors, Groundworks of Lawrence with starter vegetable plants, the meat and egg offerings of Jamie Knabe and a honey vendor. Renyer and Rodrock expect a couple more booths for the second week and a full parking lot of vendors when the market hits its stride in June and July.
"There's a lot of interest," Rodrock said. "As I was researching, I was shocked to learn of all the small farms around Baldwin."
Renyer said she was drawn into the farmers' market through a conversation with Rodrock during a visit to his office.
"He started talking about Optimal Living and his interest in healthy foods," she said. "I'm very interested in where my food comes from. We grow our own food and even make our own lard. We do it all. He asked me if I would be interested in a project to bring more locally produced food to the community."
Future vendors will probably include those associated with its organizers. Rodrock said the plan was to sell Optimal Living meals at the site, and Renyer said food produced at her farm will probably find its way to a booth this summer.
"My kids have their own garden," she said. "I'll probably have a booth, but it will be more for my kids and allowing all their hard work to pay off."