Wellness Festival returns Saturday to Baldwin City at Collins Center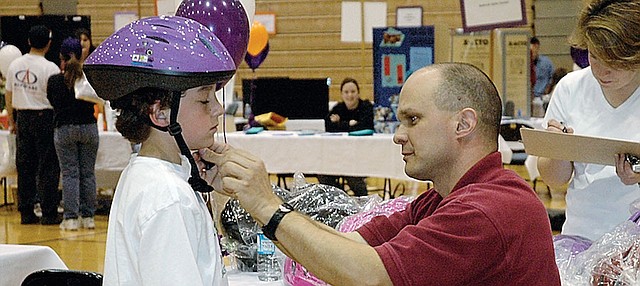 If a number of potential life-saving health screenings aren't enough, Kansas University basketball and Kansas City Royals fans will have added reason to attend Saturday's annual Wellness Festival.
Baker University and the Baldwin City Recreation Commission's 14th annual Wellness Festival will be from 9 a.m. to noon Saturday at the Baker University Collins Center. Among the attractions will be a former Jayhawk star forward.
"Wayne Simien will be there signing autographs," said Baker University health and counseling service coordinator Sherri Pahcoddy. "We've never had anyone signing autographs before. We'll have door prizes every 15 minutes. We'll have Royals jerseys to give away. Those two things are new this year."
What won't be new is the vendors offering wellness-related information or health screenings on the Collins Center floor. Pahcoddy said 65 vendors have committed to have booths at the event. hose screenings have identified life-threatening conditions in the past, she said.
Among them will be those offering free screenings for blood pressure, blood sugar, posture, body fat, hearing, vision, skin cancer and dental health, Pahcoddy said.
In addition, Lawrence Memorial Hospital will offer more extensive blood screenings, including an optional prostate PSA screen, Pahcoddy said. The cost of those tests will be $40, with an additional $10 for the PSA screen. The results will be mailed to attendees, she said.
"That's a bargain," she said. "Those tests can cost $300 to $400 out of pocket."
The first 200 through the Collins Center will receive a free T-shirts, Pahcoddy said. Again this year, the Baldwin City Fire Department will fit children for free bicycle helmets.
The day will start with the annual Baldwin City Community 5k Walk/Run. The event will start at 8 a.m. in front of the Collins Center.
The cost to enter is $15 for individual or $39 for family. Participants can sign up before the event at the BCRC office, 705 High St., or starting at 7:30 a.m. Saturday at the Collins Center. Those entering will receive a T-shirt. Money raised will benefit Go Red For Women.