Kansas City Connection: Record Store Day, Malcolm Gladwell and Third Thursday
Vinyl fanatics will want to check out the area's Record Store Day events this Saturday.
What started out as a small event to boost the visibility of America's remaining record stores has since become a big deal, with live music, giveaways, free food, drinks and hundreds of special record releases.
At Mills Record Company (314 Westport Road), a lineup of 10 different bands will be performing outside between 2 p.m. and 8:30 p.m. At that point, acclaimed mother/son duo Madisen Ward and Mama Bear will perform an intimate in-store set followed by local favorites The Grisly Hand. View a full list of releases and performing bands at millsrecordcompany.com.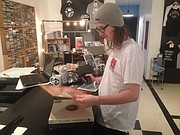 About a mile to the west at 1614 Westport Road, Records With Merritt will host a Record Store Day party beginning at 8 a.m. with food, drinks and live music featuring acts including Merlin, Odd-O-Matic, Cop Knock and Hyphotronic Man until 8 p.m.
Records With Merritt carries a wide variety of titles, specializing in new releases and reissues of jazz, pop, classical and international titles.
Malcolm Gladwell
Middle of the Map Fest continues this week with the tech portion of the festival (which included film last week and music next week).
The forum features 50 panelists and speakers covering the convergence of art, tech, culture and transportation in K.C. The keynote speaker will be Malcolm Gladwell, the New Yorker columnist and author of books like "The Tipping Point" and "Outliers: The Story of Success." 
Gladwell will speak at the Kauffman Center at 7 p.m. Wednesday. Tickets for that are $24 at kauffmancenter.org. The rest of the forum will take place on April 16 and 17 at the Kansas City Star Press Pavilion. Forum passes (which do not include the Gladwell speech) are $35 at middleofthemapfest.com/tickets. Or download the official MOTM app for more details. 
Third Thursday
On Third Thursday evenings, the Nelson-Atkins Museum of Art opens its doors for evening happy hours in the lobby of the Bloch Building, with small plates, cocktails and beer.
This week, the theme is Soul + Food, and live music will be provided by the soulful outfit Charlotte Embry and Soigne, as well as DJ Joe. Considering that admission to most of the museum exhibits are free, it's a great chance to have a high-class outing on a budget. The Third Thursday event will run from 6 p.m. to 9 p.m. 
Normal Human
Looking for somewhere to stock up on T-shirts reflecting a clever, quirky sense of local pride? Check out Normal Human, a screen-printing shop and purveyor of apparel showcasing a humble yet humorous sense of regional identity.
For example, one of their top-selling shirts last winter read "2014 Second Place/World Champs" with the words "still pretty good" underneath — a nice, wearable summary of Royals pride circa late 2014. Normal Human is located at 827 Westport Road, and T-shirt designs can be viewed at nrmlhmn.com. 
Concerts
Tonight at 7 p.m., the plucky Ukulele Orchestra of Great Britain will perform at Yardley Hall on the Johnson County Community College campus (12345 College Blvd.). The ensemble's improvisations and musical high jinks have been described as Monty Python with ukuleles. Tickets are $15 to $40 (or $5 for students) at jccc.edu/theseries. 
On Wednesday at the Record Bar, blues/country songwriter Charlie Parr will tune up his resonator guitar for a one-man performance of rugged ballads and fingerstyle guitar playing. The Minnesota-born Parr is a veteran traveling musician, and his songs have a warm, well-worn quality that should go down nicely with a glass of neat whiskey and maybe a beer or two.
Tickets are $7 for those 21 and over, and $10 for those 18 to 20.
— Lucas Wetzel is a writer and editor from Kansas City, Mo. Know of an upcoming event in Kansas City you'd like to see featured in Kansas City Connection? Email us about it at kcconnection@ljworld.com.